5 Ways to Convert Your Audio Files to Text in Minutes
Especially when you aren't aware of transcribing techniques, in short, manually transcribing everything by yourself will take hours to do. On average, a professional transcriber will write 80 to 100 words per minute and will take four to six hours to transcribe one-hour audio!
Alternatively, using a transcription app to convert audio files is the key solution here. There are many options available, but we will show you the five best ways to convert audio files to text.
5 best ways to convert audio files to text
1. Happy Scribe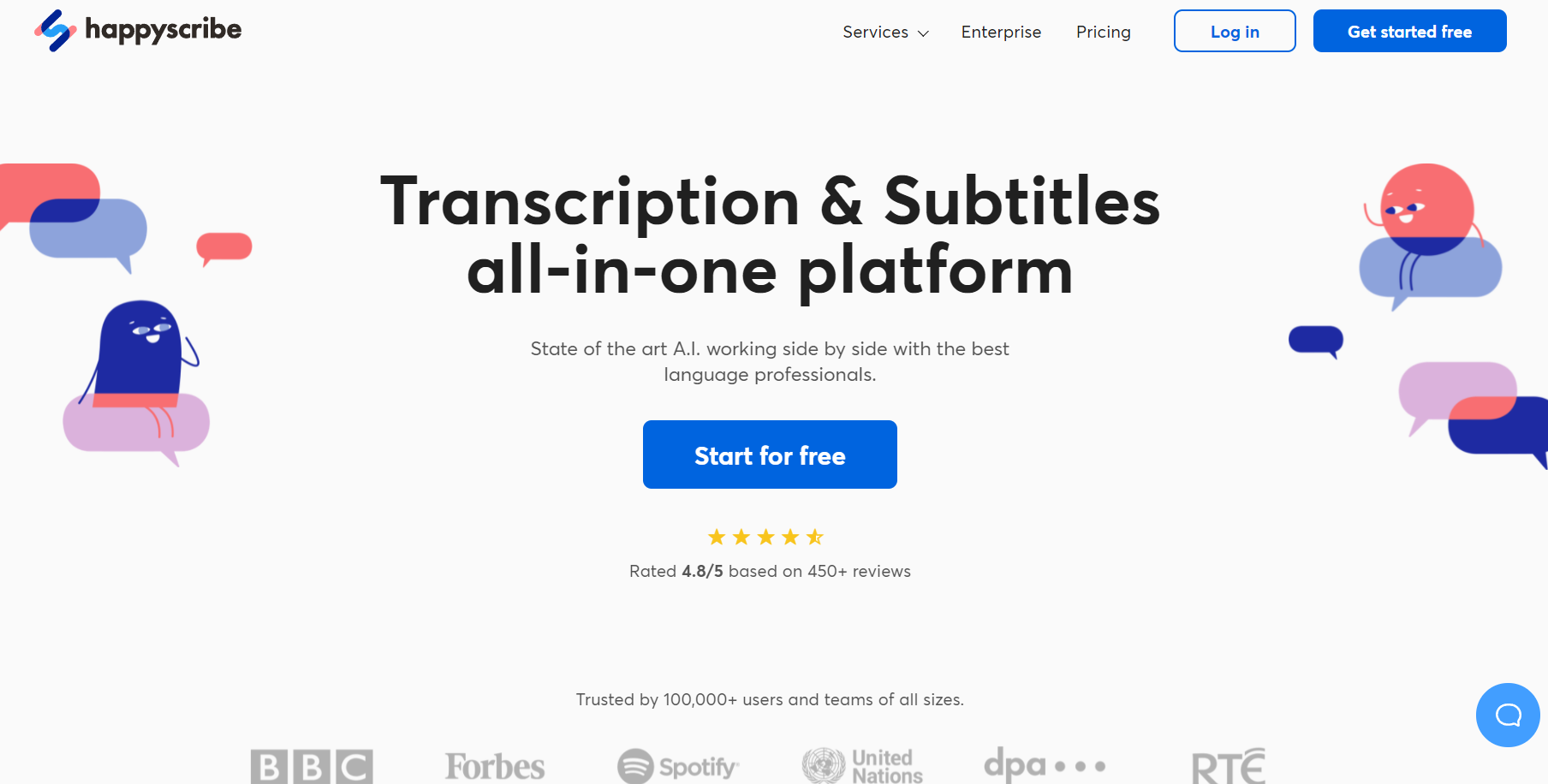 Convert audio file to text by using Happy Scribe's automatic transcription software. Audio file conversions into text may be done through audio recording, academic study, conference recording, or even a music video clip.
Sometimes, a text file is better than audio recording, whereas transcription can be helpful for research, dictation, transcribing phone calls, podcasts, and more. The best part is that you can upload without any limit!
Happy Scribe allows you to convert audio to text in three different ways:
Happy Scribe's automatic transcription software: uses a speech-to-text algorithm to convert any audio recording into a text file. Allows you to transcribe an audio in more than 120+ languages and accents. If your file is shorter than a duration of 10 minutes, you can transcribe it for free.
Booking Happy Scribe's human transcription services: you may do this by hiring a freelance transcriber such as Happy Scribe.
Using Happy Scribe's transcription editor: if you have more free time available, you may transcribe your files using Happy Scribe's free transcription editor from your dashboard and on the editor page.
Pricing will be based on which method you choose to go with. There are automatic services or human-made. With automatic services, you will be paying €0.20 per minute and get up to 85% accuracy when transcribing audio files. Human-made services cost €1.70 per minute but give you 99% guaranteed accuracy with a 24 hour turnaround time.
Key features include:
No upload limits
Machine translation
Workspace for collaboration
Import from other platforms
Security & confidentiality
2. Transcribe using Microsoft Word
Are you someone who likes to use Microsoft Word for transcription services? Well, the good news is that Word allows you to Transcribe your .mp3, .mp4, .wav, or .m4a audio recordings.
These features allow you to record all of your conversations directly on Microsoft Word or even transcribe them automatically after uploading the audio files. Additionally, features on Word can identify many different speakers during the audio recording, which will later allow you to replay these parts of the audio file and seek where you need to edit them.
Alternatively, there are other options available as well whenever you use the transcription feature. Some of those options are highlighting a quote, where you may do this by clicking on the plus icon on whichever line you wish, whereas it will be inserted into your document. Or, even if you are looking to send the complete transcription of a particular audio file, you may click "add all to document."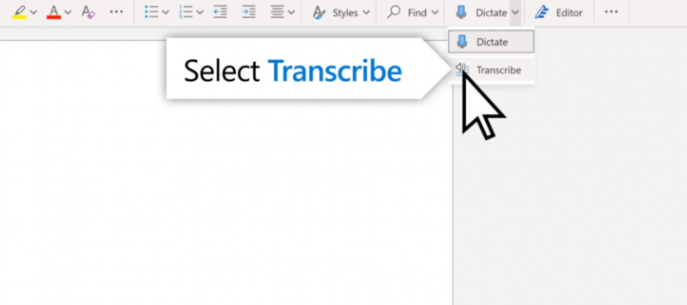 Microsoft's 365 personal plans offer this feature for all of their subscribers for $6.99 per month and grant you up to five hours of transcription services per month along with your subscription.
Key features include:
Automatic transcription
Able to replay audio file
Quote highlighting
Five hours of transcription services per month
3. Amazon transcription
Amazon transcription is a cloud-based automatic speech recognition platform specially built for converting audio files to text. Moreover, it is also well built to work with noisy and low-quality audio files too!
Amazon Transcribe was initially built for business purposes, but you can still use it for individual transcription needs. The platform adds formatting and punctuation as needed and grants you full access to many other features to manage and edit the transcribed text.
An excellent payment option Amazon Transcribe offers is that they will only request you to pay based on your usage, not monthly. For example, if you don't use transcription services regularly, you won't have to pay monthly. Alternatively, you have a free tier option available, which offers you one hour of transcription services per month for up to one year.
Moreover, if you wish to calculate the overall costs of Amazon Transcribe, you may do so with their AWS pricing calculator.
Key features include:
Audio inputs
Automatic language identification
Free-tier option
Customizable outputs
User safety & privacy features, and more
4. Audext
A practical and easy way to convert audio files to text from your browser. Audext uses machine learning technology, ensuring it adapts to voices during the audio. Different sounds are identified during the same audio file with a high level of accuracy, and as a result, it'll only make your editing work much more manageable.
Audext is best when used for podcasts, media, and educational lectures. Moreover, fast transcription is used with the help of AI that allows you to convert large audio files to text reasonably quickly. Many audio files are supported where you have a text editor that will enable you to make any edits if necessary.
Pricing with Audext will vary based on the hours your audio files will take to convert. For example, Audext charges $12 for one hour of transcription or $5 if you subscribe to their services. Additionally, you get a 10% discount once you choose to use ten or more hours of transcription services. Although, keep in mind that when subscribing with Audext, you will get a better deal than a one-time purchase.
In short, Audext's key features include:
Machine learning & AI technology
High accuracy
It supports many audio formats
Detects many different speakers
It has a quick upload time and allows you to export files right away
Online tool
5. Dragon Anywhere
If you want a voice recognition option that you may carry on your mobile phone, then Dragon Anywhere is the right choice for you. It is an app that doesn't have any word restrictions and is 99% accurate in transcription.
Dragon Anywhere also learns how to communicate, so with every transcription, it gets just as accurate! You may use it to transcribe voice files, interviews, voice memos, and much more. You may also share it with anyone via cloud services.
The transcription app was initially built for accuracy, so it's a top priority for the application. It is free to use for one week but then will cost $14.99 per month.
Key features of the app include:
Email dictated text
Allows you to share documents to cloud storage
Open dictation files on Microsoft Word
Import documents directly from cloud storage
99% transcription accuracy
It gets smarter after every transcription
Why should you transcribe audio to text?
Here are a few reasons why you should transcribe audio to text:
1. SEO benefits
Posting text online makes you more recognized by search engines. Moreover, it starts to rank on Google with the relevant keywords. This is beneficial for you as you will get increased traffic that will help your website.
2. Saves time
Manually transcribing audio files to text will take many hours of your time. To only transcribe one-hour audio can take four or more hours! While transcription software only does this for a few minutes. Instead of worrying about audio files, you can worry about other important things in your business.
3. Increases social shares
Audio files may not be compatible with social media snippets, although they have images and text. Moreover, this results in more social shares and traffic over time.
4. Repurpose your content
Whenever you transcribe audio to text, you have additional time for creating more content. Hence, that means you are allowed to repurpose your content, making the best use of your time.
5. Easier content creation
Transcribing is easier when it comes to comparing it with writing. It is the best option when you are seeking to populate your website with more content. Let's not forget that the more relevant content you have, the much better your website authority will be.
Wrapping up your 5 ways for converting audio files to texts
That's all for this article. These are the five ways you can use to convert your audio files to text quickly. Manual transcribing can take hours and hours to finish, and it disturbs your time efficiency and may even affect your business productivity. Instead of taking days to complete this task, modern technology is getting it done in only a few minutes.
Personal contact info – slikgepotenuz@gmail.com
Permanent Address :- Montville, NJ
CEO and co-founder at Cloudsmallbusinessservice.com