8 Reasons Why All Small Businesses Should Embrace Automation
Automation is gaining increasing prominence in the business world. While people have been talking about it since years, it is still a relatively new technology that's gradually foraying into the modern business arena.
Most small businesses are yet to realize the importance of automating processes and take proactive measures to do so. While exploring other solutions is an option, these solutions are usually short-term. Thriving in the modern business landscape will require small businesses to leverage automation to gain a competitive edge.
For automation to succeed, businesses should consult an experienced managed IT services provider, who can guide them about automating the business-critical practices. These include supply chain management, inventory management, order delivery, providing technical assistance and support, among others.
Mentioned below are a few advantages of automation that will help small businesses understand why they should say yes to automation.
1. Enhances Productivity
Improving efficiency is among the chief functions of technology. Similarly, automation is a technology that is being adopted across industries to improve competency while minimizing the time taken to perform certain tasks. This, however, does not mean that automation can increase productivity in every business sphere. It works best when deployed for manual and repetitive tasks.
Even as artificial intelligence continues to evolve, many small business operations still require human effort (physical and cognitive) to manage complex functions. Automation, therefore, helps small businesses by seamlessly executing some of their time-and-resource-consuming front-loaded processes.
2. Scales with Your Business
in demand. This kind of a situation can put businesses at risk if they lack the manpower and resources needed to complete the orders within the agreed-upon timeframe. Some other adverse effects include poor customer service, delivery delays, and a ruined reputation.
In order to meet surges in demand, it makes sense to deploy automation instead of increasing your workforce and operations. With the help of such a solution, you will be able to adjust the speed of your operations depending on the number of orders. Even if your orders double or triple, you can invest in more automated technology without having to hire and train more employees.
3. Increases Accuracy and Minimizes Man-made Errors
Irrespective of how skillful a person is at tackling a certain job, there is always scope for error, thereby necessitating additional time and effort for rectification. Introducing automation in your processes, however, will eliminate the scope of human error.
Many a time, man-made errors go unnoticed until they result in problems. Automation can prevent such situations from arising, while also simplifying processes. From smart invoicing systems and inventory management tools to customer relationship management software and HRIS, automation can play a huge role in improving accuracy and operational efficiency.
4. Enables Better Collaboration
All businesses are made of several moving parts in the form of teams that handle different tasks with members juggling multiple responsibilities simultaneously. Without clear communication among and within teams, critical project details are bound to get mixed up.
This is where automation tools can help by streamlining communication so everyone is one the same page when it comes to work objectives, the progress made, the road ahead, and the timelines. From setting goals to tracking progress and optimizing resource allocation, automation enables it all effortlessly and without human intervention.
5. Facilitates Smarter Space Management
Warehouses and factories can benefit greatly from automation. Managing inventory and assembling orders need not take up a lot of space. Instead of using huge equipment to move products and prepare orders, you can deploy omnidirectional bots and smart picking tools to free up your storage space.
The best thing about these bots is that they can maneuver through constricted areas with ease, so you don't have to worry about large lifting machines occupying your facility's real estate.
Further, automated invoicing and bookkeeping tools allow facility managers to back-up their digital files and store them in an external device or the cloud, resulting in a paperless office without a bunch of files taking up space.
6. Reduces Labor Costs
Reduced labor costs is perhaps the biggest advantage of business automation. Hiring and training employees for jobs that can easily be automated eats into a business's budget. Adopting automation is, therefore, a prudent step.
While investing in automation tools can seem costly at the start, it pays off when your overheads come down over time. Moreover, these tools last long save the occasional software glitch, correcting which is less costly and time-consuming compared to hiring and retaining dozens of employees.
Businesses constantly looking for skilled workers who will join and stay for the long term can automate their business operations while hiring and paying only a few quality employees.
7. Improves Customer Management
The modern business landscape requires businesses of all sized to be connected to their customers 24/7. This is possible only with the help of a robust software or application. These tools collect and record customer information and preferences for current and future use. This technology allows small businesses to connect with their customers and deliver smooth, flexible services during every interaction.
8. Helps Save Time
Small business owners tend to perform most tasks by themselves. Automating certain business operations will, therefore, enable better use of time; and entrepreneurs can focus the effort and time thus saved on other strategic tasks. It becomes easier to find exciting growth opportunities and build lasting partnerships in the industry. In other words, time wasted on redundant and labor-intensive processes can be saved and used optimally in other activities.
Conclusion
Whether or not small business owners realize it, automation is key to their proliferation. Whether it is processing orders or providing customer support, automation will help you manage your business better. You can lower labor costs, save time and resources, and enhance your firm's reputation through smart work. As an entrepreneur, you want to look at the bigger picture and automation can give you exactly that. We hope the above pointers will help you understand the inevitability of embracing automation, and motivate you to jump on the bandwagon today!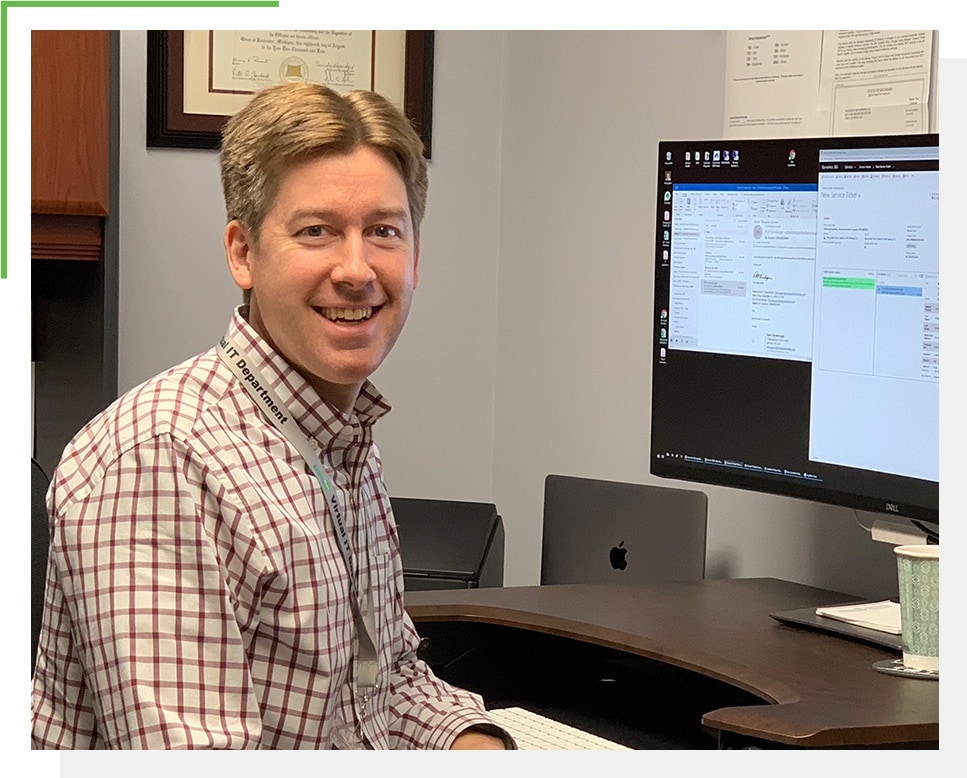 I'm Dave Goodenough, Founder of InsideOut Networking, a managed IT service company in Troy, started in 2004 with the idea that if we could cut through all the jargon and tech speak and just have real conversations about computers and technology, we could help a lot of people out and develop long-term relationships with our clients.