User Review – Kernel Outlook PST Viewer
It can be very frustrating when you have PST files with some important data, and you don't have MS Outlook to access them. I had such a situation recently. I had some PST files and didn't have Outlook on my PC. By searching the Internet, I came to know about this user-friendly tool "Kernel Outlook PST Viewer" that helped me open and view all my PST files.
About Kernel Outlook PST Viewer
The first thing that impressed me most about this software was its GUI. Kernel Outlook PST Viewer offers a great and interactive GUI that allows users to open PST files.
It is a simple viewer for PST files. Users can quickly read their email messages, view contacts, tasks, calendars, and access all the Outlook folders, including the Deleted items folder.
Also, for some users, the Outlook is a little bit complex, and they look for a better option to open and view their PST files. They can also try this tool.
What did I like about this tool?
This free tool allowed me to view PST files of any size. Below I have mentioned some of the best features of this tool which includes;
Access to a good as well as corrupted PST file without MS Outlook

Open email attachments easily

Users will get to see all the folders in the original hierarchy as in MS Outlook

Allow to search PST files or any specific item

It supports both ANSI and Unicode formats of .pst files

Allow users to view even password protected files

Allow users to open and view even oversized .pst files

Easily displays all the folders of the .pst files, such as Drafts, Outbox, Inbox, Sent items, and so on.
You can avail all these benefits with the help of Kernel Outlook PST viewer.
What I disliked about this tool?
I have been using this tool for two months, and I don't think there is anything that I dislike about this product. From installing the tool to running it, everything is smooth.
Installing Kernel PST Viewer
The installation of PST viewer is not complicated. You have to follow the steps as:
1. Double-click the Kernel Outlook PST viewer tool installer file. The installation wizard appears. Click Next.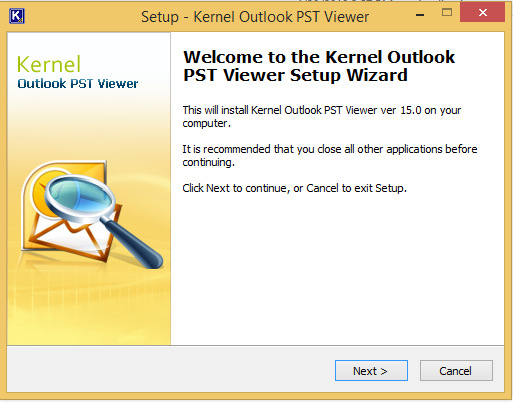 2. Follow the instruction shown on the screen.
3. It will take only a few simple steps to install the tool on your system.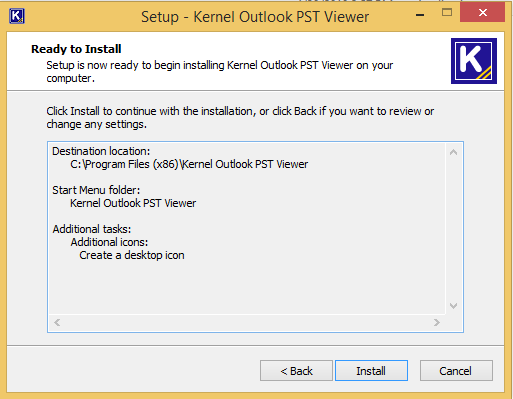 4. After installation, a completion message will appear on the screen. Now, click the Finish button.
The Kernel Outlook PST viewer tool is ready to use.
How to Use Kernel Outlook PST Viewer?
Operating Kernel Outlook PST Viewer is as simple as installing it. Below I am mentioning the steps to view your PST files:
1. Launch the tool. When the Welcome screen appears, click "Select File," and then browse the file which you want to see in the tool.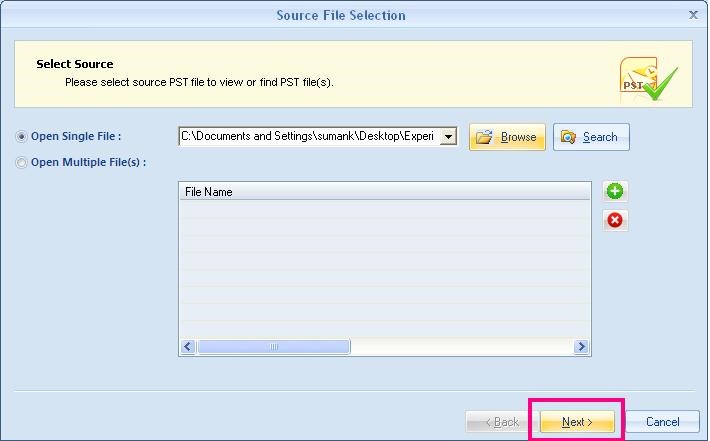 Note: If you want to see multiple files, then check "Open multiple files."
2. Once the .pst file items are successfully loaded, users can easily preview them. You can select any folder from the left side and see its items on the preview pane. With Kernel Outlook PST Viewer, you can easily access any mail or attachment.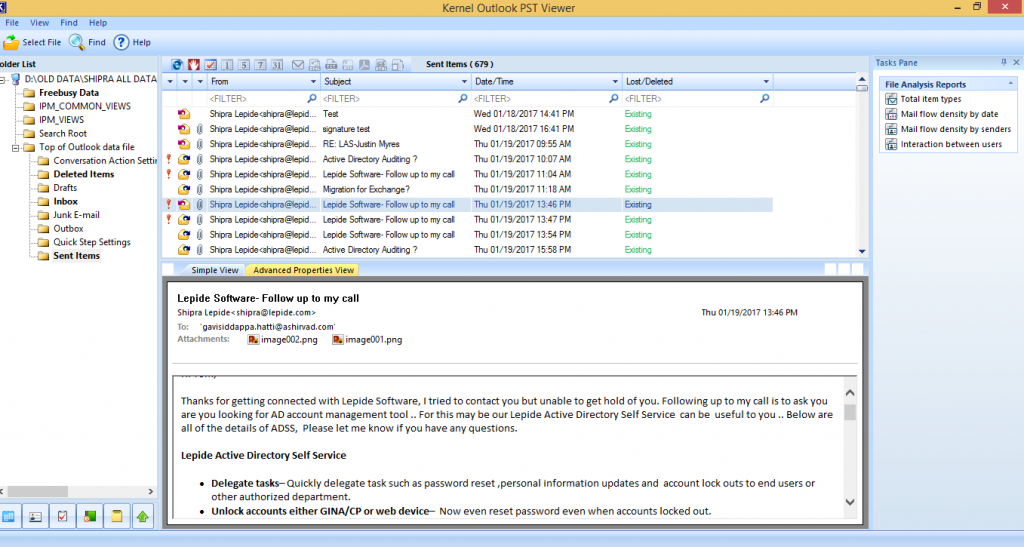 3. To generate the analysis report of the PST file, click the required report type on the right panel. Then select the required folders and click "Analyze." The PST file analysis report will be generated immediately.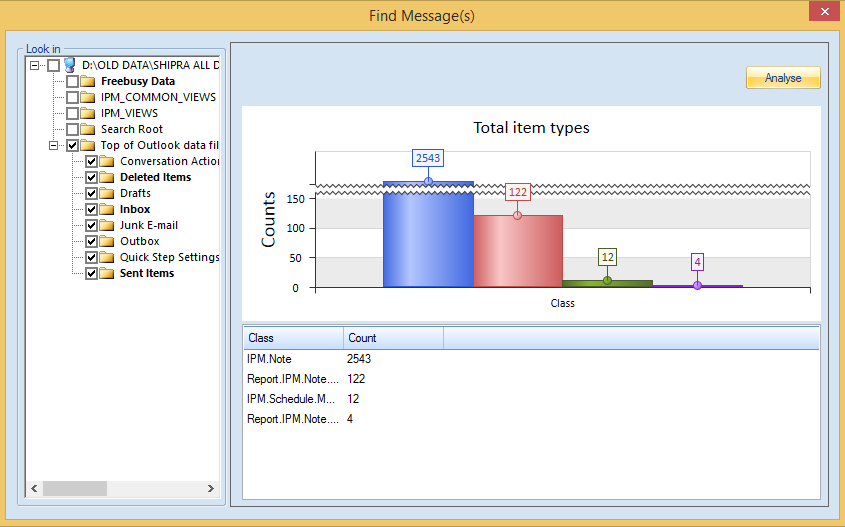 See, it's so simple to use the Kernel Outlook PST Viewer.
Though there are some limits to the free version, you can upgrade the tool anytime you want, and it wouldn't even cost you much.
Note: I purchased the paid version of this tool also. It offered me some additional features, and the best thing was the repairing of corrupt PST files and splitting of PST files. These are the best features (among many) that I got with the purchased version.
Based on my experience, I would say that it is one of the best tools that I have ever used for the viewing my PST files without installing MS Outlook on my system. So, I would suggest everyone to download this tool from https://www.nucleustechnologies.com/pst-viewer.html
Data recovery software range to recover files and folders from the corrupt partitions of Windows, Linux, Novell, MAC operating systems. Perform disk recovery, database recovery, file repair, email recovery, email migration, password recovery, file recovery, backup recovery with Kernel range tools for any case of corruption.