How to boost your digital marketing presence on Instagram
Instagram as the fast growing social network, being part of Facebook, is already used by millions of businesses and this number is highly increasing. But for newbies it can be quite challenging to start a marketing campaign on Instagram.
You can find a lot of tips on how to build a solid presence on the platform using the common popular marketing techniques, as e.g. the ways you should behave in Instagram community: using right captions and hashtags (not only the most popular ones but also the niche hashtags that will allow you to raise some of your posts to the top), engaging with users which means following others, commenting and liking other users posts, mixing your posts content from the products images to your team photos and other brand's related content, promoting with Instagram photos/videos/carousels/stories ads and so on.
And of course, you will need insights of how your account is doing on Instagram: the number of users that saw your posts, clicked on your website link, viewed your Instagram profile and the number of likes, comments and saves that your posts got. Using different tools you're also able to find out what photo or video got the most engagement, how many users followed and unfollowed your account.
But it's not only your account stats that matter. More experienced marketers utilize emerging data-driven Instagram strategies: they track performance of other Instagram accounts in addition to their own as Instagram is a network that is all about users and engagement.
And since every business has its customers and competitors, a great way to set up your Instagram is to monitor them to understand the tendencies of their behavior.
Here are some reasons of monitoring Instagram users:
If you're a business owner it's always useful to snoop on your competitors to get their growth strategy: the users they follow and interact, their ways of engagement – making tons of likes or just leaving some comments.
If you plan to target any bloggers or influencers, first research their preferences: the types of content that capture their attention, the updates that attract their likes and comments.
For every brand the most important users are its customers, so to understand your target audience perfectly, track videos, photos, stories that are catchy for them. Study the business profiles they follow as well and what kind of users they actually are – engagers or, on the contrary, lurkers.
How can you use all this information?
Update your content and make it remarkable to your audience. As you'll know what makes your customers engage and make a double click for likes: photos or videos, product images or team photos, funny or informational posts. Target your content basing on similarities you'll find after monitoring.
Refine your marketing strategy: the competitors actions are the great source for successful and failed strategies so you shouldn't try them all but choose the most relevant ones and apply to your needs.
Find the best influencers for your brand – it doesn't mean that the most popular is the most suitable ones. The best way to choose them? Monitor what users get more likes and comments from your target audience so you will find not only the most popular and expensive ones but also implicit and micro influencers that would match better for collaboration.
The tool that can handle this:
The best way to gain all of this information is to use a right tool. Snoopreport exactly this: it helps you to monitor an unlimited number of Instagram accounts and then provides weekly and monthly activity reports for each user in your list: what they liked, followed and commented during a certain week or a month.
After signing up to the service, you'll get into the dashboard where you can add users and time for monitoring – all you need is their usernames.
The monitoring starts when you choose the number of weeks to monitor every account and when the time balance comes to zero the monitoring ends but you can always continue it by adding more weeks.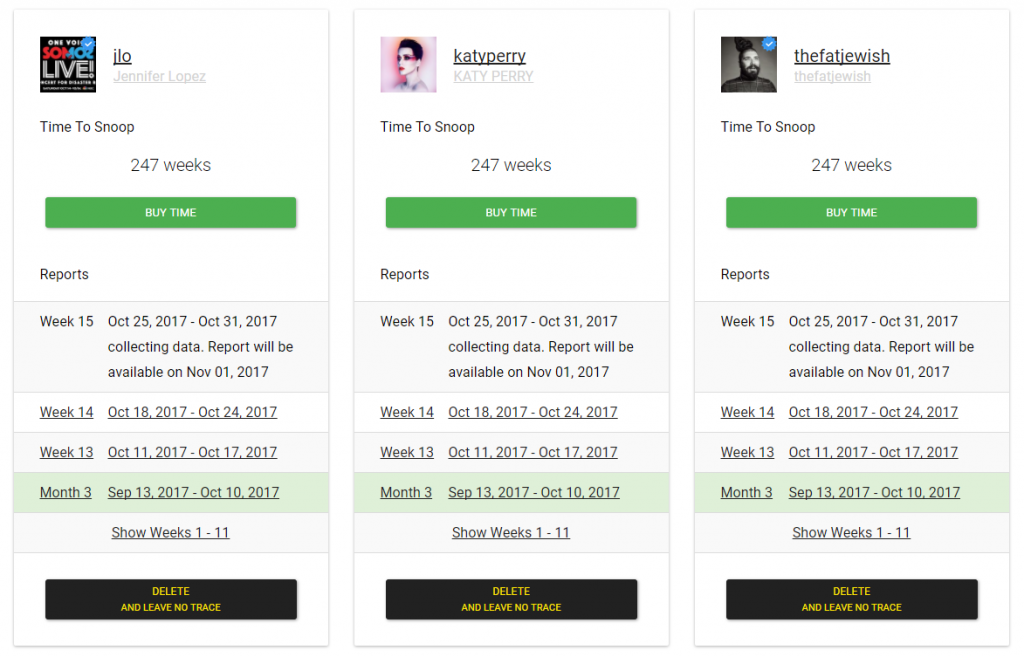 When the first week of monitoring ends you get an individual report that you can download in PDF format and in CSV as well if you need the chronological order of all actions made by a user.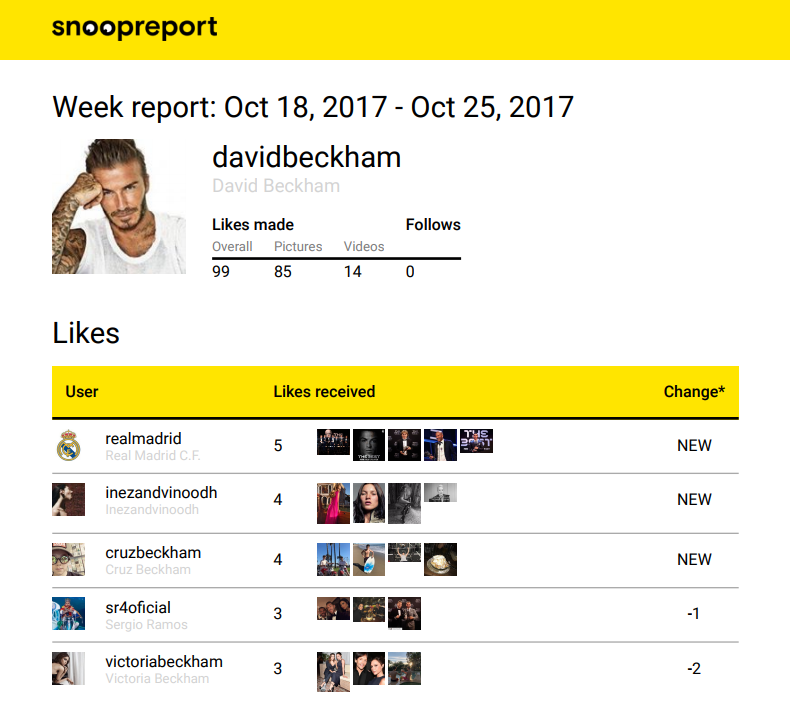 At first sight, you can see the total of the users' likes and likes made to photos and videos separately.
Scrolling down you can look through the lists of users whose posts got likes and see each post in full by clicking on the photo snippet.
This report data is helpful for highlighting the users whose posts are more popular among your audience and to define the common content liked by users – just start the monitoring of the multiple accounts of your customers and use the data to enrich your content strategy and draw users to engage your business account on Instagram.
The report is also get an opportunity to see the growth of other brands and businesses – as you can see the follows made by each user in the past week:
What conclusions you can make from the research of your target audience and other brands Instagram activity reports:
The engagement ways of these accounts
The most active engagers
The content that drive users to make actions on Instagram
The accounts that get more followers and their growth strategy
Basing on them you can set an in-depth analysis to pull the strategies from the brands ones and adapt them to your own.
If you plan to research the common tendencies in the users group behavior apply the group report option as you can generate a custom report by selecting the required period of time and the users that will be displayed in the report.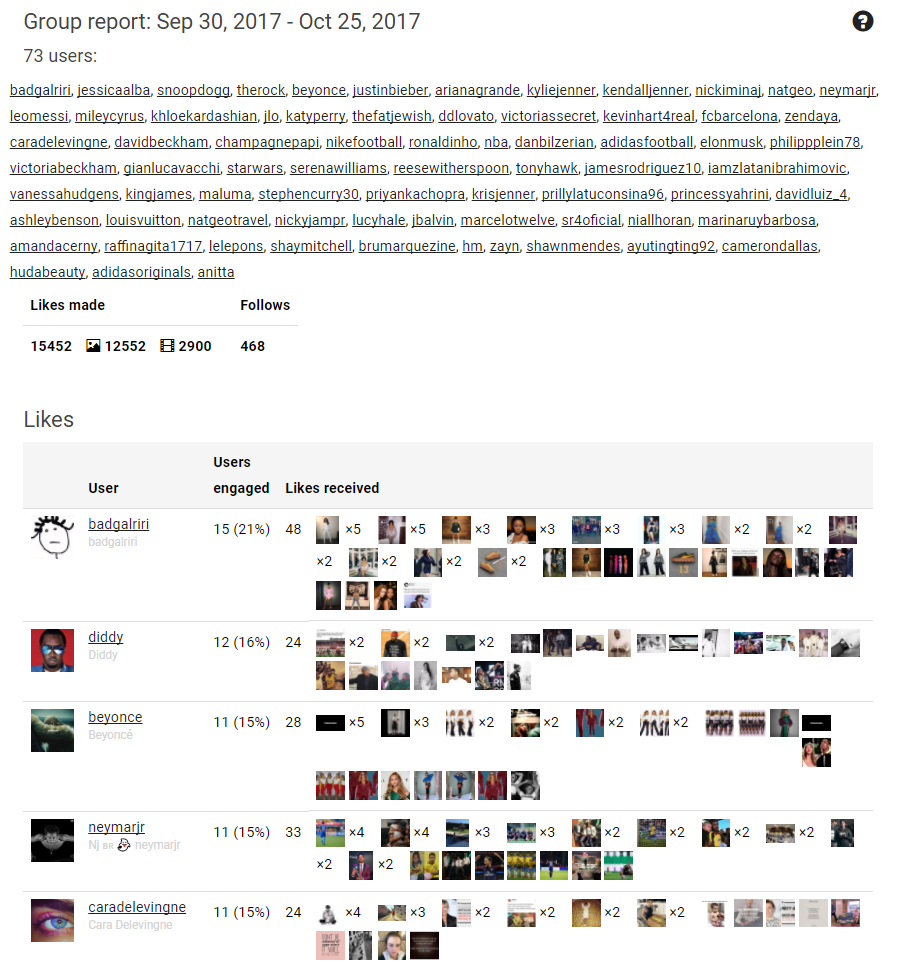 As well as an individual report, a group report provides the likes, comments and follows made by a group of users including their engagement rate so you could find the trends in engagement and distinguish the images content that is more popular among this group.
Summary
To have a perfect presence in social media you always need to tailor your marketing strategy and you can't do it correctly without exploring your audience, competitors and other users that could involve your business, as well as trends, behaviour, and likes. This understanding will help you to make better your content that will definitely work for your marketing.
Snoopreport is the Instagram monitoring platform. It tracks user actions on Instagram as likes, comments and follows. The service provides user activity data in weekly and monthly PDF reports, all user actions in CSV for in-depth analytics and group reports for the user group behavior research. https://snoopreport.com