Coolmuster Android Assistant Review: Manage Your Android Phone Much More Breezily
Coolmuster Android Assistant is known by more and more users for its excellent management of Android device. If you are searching for a practical application to manage your Android phone more breezily, this Android Assistant is your probable choice. Before deciding, you can scrutinize this post about almost all the details of Coolmuster Android Assistant., which is of benefit to make a correct decision because all the features, advantages and disadvantages, pricing, and operating guide of this app will be shown here. So, you can check it according to the authentic descriptions.
Overview of Coolmuster Android Assistant
Broadly speaking, Coolmuster Android Assistant is a practical application to help you cope with various data types on the computer easily with the several kinds of features. With it, you will make great management of your Android files on the computer, thus you won't be afraid to lose your important data anymore.
Key Features and Highlights
If you want to learn about how many functions of Coolmuster Android Assistant, please don't miss this part for it will display all-round features of this Android Manager.
1-Click Backup & Restore
Coolmuster Android Assistant can help you back up all the Android files to the computer in 1 click, including apps, contacts, text messages, call logs, photos, videos, music, and other documents. After that, if you need to restore your backup files from the computer to the Android phone, you can tap on the "Restore" option and it will restore the complete data quickly.
All-round Management for Personal Data
The personal data contains your contacts, call logs, and text messages, which are the most important on the Android phone. For convenience, this Android Assistant will scan the whole basic data from your Android phone on the computer's screen, thus you can view all clearly and make a selection on the data for backup. Additionally, you can receive, edit, send, delete your SMS on the PC/Mac, and add new contacts, deleted the needless call number as well.
Good Management for Media Files
Media data includes photos, music, and videos. Generally, they are occupying too much space on the Android phone, and it is not easy to transfer them to another place. But with this Android Manager, you can transfer them to your computer in a short time for backup, which you can release the storage space of the Android device. More importantly, all of your media data will not lose any quality after the transfer. And there are multiple functions for you to manage your media data on the computer, like moving, copying, and deleting your pictures, making a new album of the photos, creating a new playlist of the songs, and more.
Unmissable Application Manager
As you are a fan of applications, Coolmuster Android Assistant is useful completely, because you can install and uninstall your Android applications on the computer directly. It can also export your software from the Android device to the computer selectively. By the way, it will make all apps in order according to the versions, size, or date for your choice.
High Security
As a matter of fact, this Android Manager only reads your Android data. When you make an order for the license, you are required to type the necessary information, such as your name, phone number, credit card number, email address, etc. All the information is for the transaction. And they will protect your privacy strictly. For example, Coolmuster uses the secure server of MyCommerce, secure socket layer technology, and other third-party credit card processors. If you would like to know it overall, you can check the privacy policy on its official page.
2 Connecting Ways
In order to satisfy every user, Coolmuster Android Assistant supports two connecting ways. You can connect your Android device to the computer with a USB cable or WiFi. In short, whether you bring the USB cable or not, you can manage your Android data on the computer well.
High Compatibility
On one hand, Coolmuster Android Assistant supports almost all kinds of Android devices, as long as its OS is Android 2.1 and upper. And it is compatible with Samsung Galaxy Note 10/Note 9/Note 8, Samsung Galaxy S20/S10/S9/S8, Sony Xperia 10/5/4/3/2/1, HTC U12 Life/U12+/U11 Life/U11 Eyes/U11/U19e/ U Ultra, ZTE Axon 10 Pro/Axon 9 Pro/Blade 10/Blade 20/Blade Z Max, Google, Xiaomi, Oppo, Vivo, Huawei, Dell, Acer, and so on.
On the other hand, this Android Assistant works with Windows 10/Windows 8/Windows 7/Windows XP/Windows Vista. Furthermore, its Mac version supports Mac OS X v10.9 or later.
Pricing & Payment Gateways
Now you can get the best discount of the license of Coolmuster Android Assistant, the 1-year license on 1 PC is $29.95, while the lifetime license on 1 PC is $39.95. If you need to work with several computers together, you can choose the 1-year license on 5 PCs which is $39.95 and its lifetime license on 5 PCs is $59.95. What's more, more options about the license of Coolmuster Android Assistant you can choose on its official website. Besides, you can pay for the licenses with different gateways, like PayPal, VISA, and other credit cards.
Advantages and Disadvantages
Getting the advantages and disadvantages of Coolmuster Android Assistant is a necessary action for you because it will let you understand whether you really need it. Thus, the second part will let you make it with perfect clarity.
Advantages
Get professional help online from its Support Center, and email them directly
Get the tutorial and news of Coolmuster from the official website, Facebook, Twitter, and YouTube
Export your contacts to the computer in multiple formats, such as CSV, HTML, VCF, XML, BAK, etc.
Take screenshots of your phone on your computer
Free to download this Android Assistant and try part of features
Disadvantages
Can't uninstall the software which is built-in on the Android phone
Need to pay for a license to get the full functions
If you delete the backup files on the computer, you can't restore them to your Android phone
Operating Guide
Coolmuster Android Assistant is so easy to operate, and every user can do it without any skills. Please read the following guide and you will believe in that.
Step 1: Download and install the app on your computer. Then launch it.
Step 2: Connect your Android phone to the computer with a USB cable and enable USB debugging on the phone. The program will detect your Android device fast.
Step 3: Once connected, you can see all the categories of the data from your Android phone is on the left panel. You can click one of them and the data will appear on the right side. Now, you can manage the data on the computer with different functions.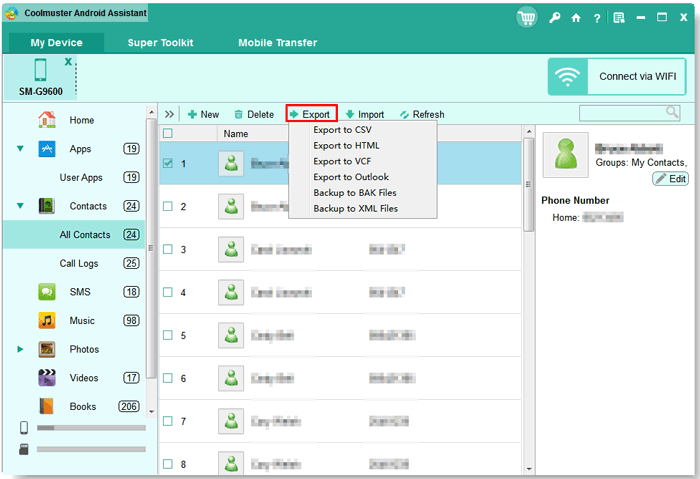 By the way, click the "Super Toolkit" icon on the top and you can back up and restore your files in 1 click.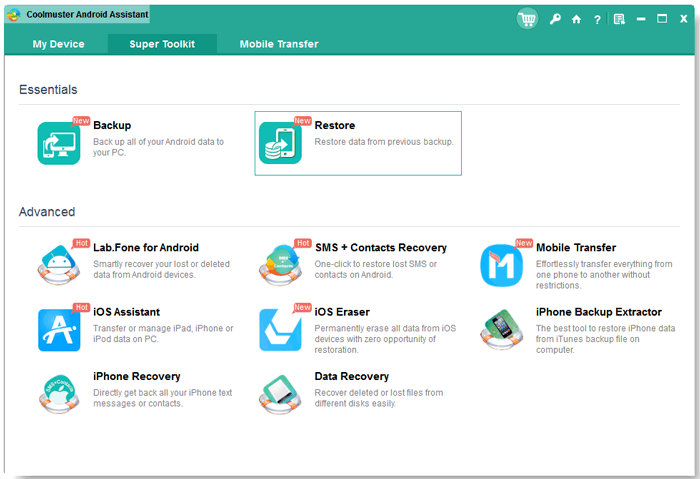 Wrap-up
This post describes Coolmuster Android Assistant amply, and if you want to know more about it, you can visit it on the official website so that you can learn the detailed guide to manage your Android data with it. It is believed that this Android Manager will achieve your expectations. Welcome to have a try and leave your opinions.
Personal contact info – slikgepotenuz@gmail.com
Permanent Address :- Montville, NJ
CEO and co-founder at Cloudsmallbusinessservice.com