10 Tools & Tips for Gauging Employee Satisfaction with IT Support
Here's a fact: For the success of an organization, the significance of employee satisfaction is equivalent to the importance of customer experience. In fact, both have a linear relationship.
Just imagine this scenario: Your company's major client has an urgent service request. But your employees are unable to login and respond to the request, due to internet connectivity issues.
Now consider another case: The system of one of your employees crashes from time to time, which consequently, discourages him/her while working. As a negative result, productivity levels drop.
In both cases, your employees get dissatisfied with IT support, which, in turn, takes a toll on customers' service experience. This is a crucial issue that can affect your business in the long run. Hence, it needs to be addressed at the earliest.
One of the best tips for employee satisfaction is to fulfill the mentioned needs and provide a swift resolution to reported issues. Furthermore, you can improve the satisfaction level of your employees when you know about their pain points. For this, you need to gauge their satisfaction.
10 Tools to Gauge Employee Satisfaction (With Pro-Tips)
Every organization should measure employee satisfaction with IT Support and take feedback. The best way is to conduct surveys.
Through an employee satisfaction survey, employee satisfaction can be measured; valuable data can be collected, and this data can be used to provide better technical support. It helps you to find the pain points of employees quickly.
Creating a survey isn't a time-consuming task. You just have to follow pertinent practices, put up necessary questions, and exploit tools available in the market.
Looking for the best survey maker tool? Here's the list of ultimate survey makers you can choose from: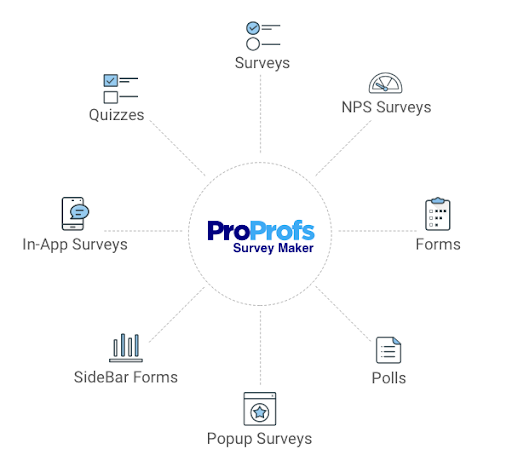 It is the easiest and most versatile survey maker tool. Using this, you can easily create surveys, quizzes, assessments, polls, and forms. The tool allows users to create different types of surveys ranging from NPS survey, popup survey to in-app surveys.
ProProfs Survey Maker enables its users to create NPS surveys in no time. Net Promoter Score (NPS) is one of the significant customer satisfaction metrics. NPS survey is the best way to measure employee satisfaction.
Using this tool, you can create and schedule an NPS survey for automatic distribution. The tool captures the feedback automatically and calculates the score in real-time. Furthermore, there is a simple dashboard that makes evaluation more painless.
Some of the chief features of this tool are:
Over 100+ templates to create appealing surveys
10000+ survey question examples
Over 20 types of questions with buttons and ratings
Scoring, skip logic, and branching can be added to surveys
Surveys can be embedded in a website, shared via a link
Pro-Tip to Gauge Employee Satisfaction:
Frequent surveys are the key to keep listening to your employee's voice and act on their feedback. But you need to track the increase in satisfaction levels, after making significant efforts. ProProfs Survey maker's intelligent analytics allows you to study your organization's data and reports to find trends related to employee satisfaction.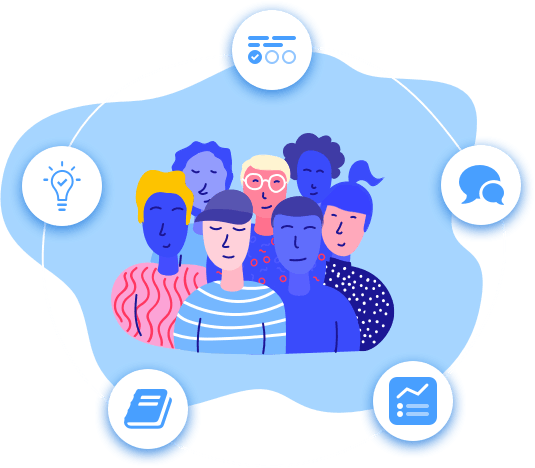 Officevibe is a robust software that aids in creating surveys to measure customer satisfaction. The tool offers Pulse Survey, Feedback, and Team Reports.
Pulse Survey is a 2-minute weekly survey with anonymous recording. It helps companies to understand the problems of their team. Plus, it yields actionable data that can be used to improve existing IT support.
You can also create a space to receive feedback from employees in real-time. This enables you to respond promptly to receive feedback and improve employee satisfaction levels. The results of the surveys are packaged into reports. This makes evaluation easier through visualization.
Some of the key features of this tool are:
Pulse surveys are sent automatically to employees
Custom Polling to gauge the opinion of employees
Survey results are presented based on over 10 employee satisfaction metrics
Pro-tip to Gauge Employee Satisfaction:
Conduct employee satisfaction surveys at regular intervals to decipher the perception and attitude of employees pertaining to the company; and take feedback from them. With Officevibe, these surveys can be kept anonymous for the ease of employees.
15Five is a handy software that facilitates creating surveys. The basic concept of this survey is that it takes only 15 minutes to fill it, while a manager takes 5 minutes to review survey responses.
The tool has a huge library of ready-to-use survey question examples, which you can copy and use in your surveys. You can also create custom surveys and set different reviewers for each.
The survey response is shared with reviewers and people who need it the most. The platform allows you to create user groups to share specific feedback and have a meaningful discussion.
Some of the main features of this software are:
Over 100 ready-to-use questions
Creation of groups
Section for employee goals and accomplishments
Pro-Tip to Gauge Employee Satisfaction:
Happy workers tend to be more productive. It is essential to gauge employee satisfaction at various stages of their employment. Conduct quick surveys to review their performance. A dip in performance surely depicts dissatisfaction.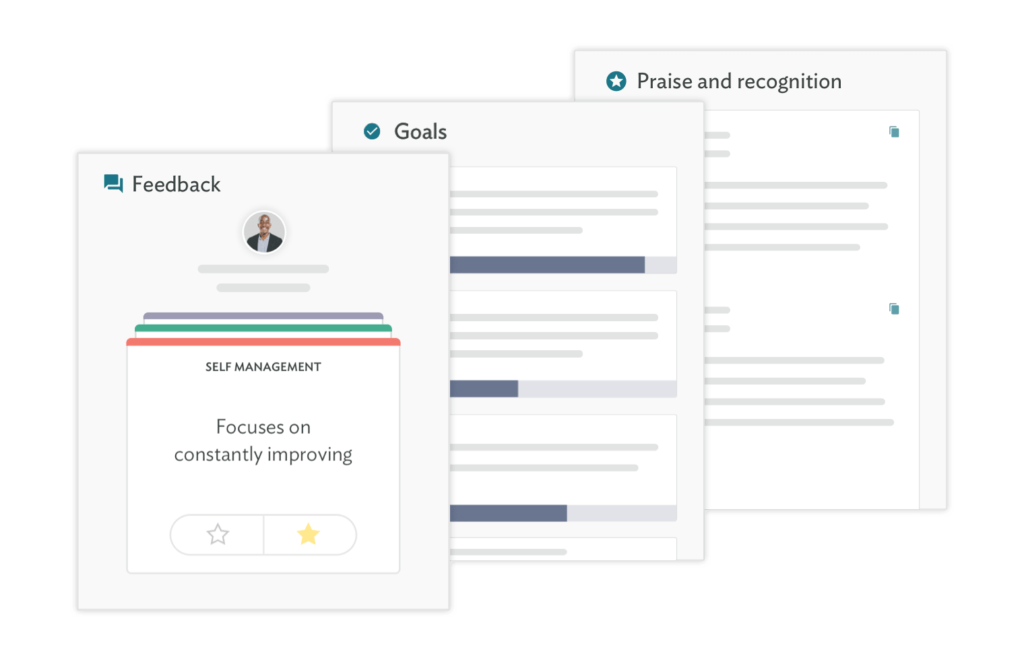 Culture Amp is another amazing tool to measure customer satisfaction scores. It allows users to create pulse surveys, culture surveys, and team surveys. You can also create personalized surveys that can be sent to a particular team and reviewed by their manager.
There are arrays of tools in the app that facilitate reviewing the performance of employees right from the day they are onboarded. The data of surveys can be converted into actionable insights, using its reporting and analytics tools.
Some of the key features of the software are:
Review by demographics and time frame
Reporting tools
Driver analysis finds out the chief 'drivers' of employee engagement
Pro-Tip to Gauge Employee Satisfaction:
Organize focus groups whereby employees can be grouped department-wise or according to roles. These focus groups can have discussions on particular topics like remuneration, holidays, work culture, rewards, etc. Make them answer surveys, in the end, to know if everyone in the group is on the same page.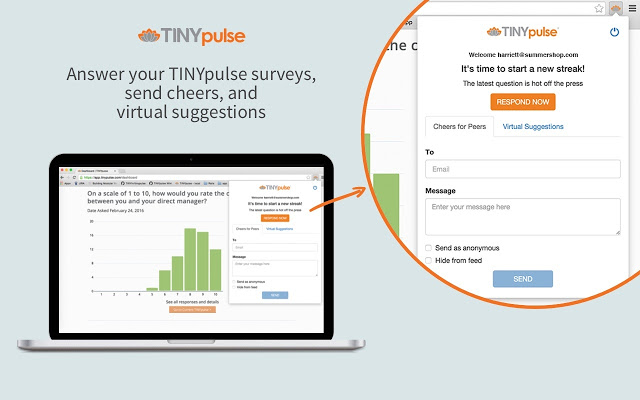 It is an easy-to-use survey maker and analytics app. It allows users to create simple surveys within 5 minutes. Users can create pulse surveys to gauge the satisfaction level and engagement of employees.
With the help of this app, you can send one survey question to your employees every week. It's totally up to you whether the question will be a yes-no, open-ended, or scale-based question. There is a reporting tool to evaluate survey responses and pull out actionable insights.
The app also sends recommendations related to improvement in certain areas to enhance employee satisfaction.
Some of the chief features of the tool are:
Feedback presented anonymously
Sending 'cheers' whereby employees can show their appreciation
Different types of questions (yes/no, score-based, scale)
Pro-Tip to Gauge Employee Satisfaction:
After conducting pulse surveys, schedule direct interaction with employees to read between the lines. To offer value to the employees, carry out market research beforehand to find salaries and other job perks offered by your competition and see if you can match up with it.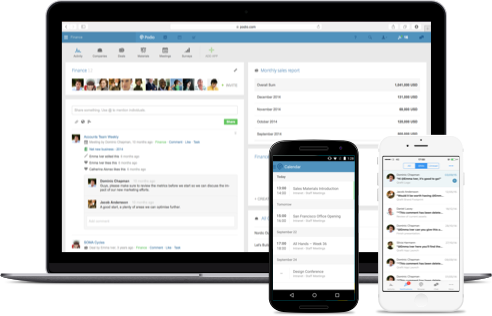 Podio is a work management solution that provides companies a web-based platform to streamline communications and information flow within the organization. Through this system, all the content, conversations, and context are housed in a single location. This way, the communications can be closely monitored. Teams can easily collaborate to complete tasks and projects, take follow-ups, and close sales.
This collaborative platform offers tools that enable full customization, task management, social collaboration, automatic meeting scheduling, and file sharing to keep team members on the same page at a given time.
Some of its main features are:
Display calendar, tasks, workspace apps, contacts, and reports on a personal dashboard
Automated workflows help create specific automation in enterprise apps
Connected CRM to help employees close deals faster
Pro-Tip to Gauge Employee Satisfaction:
Other than using this project management tool for easy collaboration, you can organize a leader roundtable for the employees. Here they will get a chance to interact with top management to make suggestions and highlight their concerns. This way, employees can gain a new perspective on task management coming right from the leaders.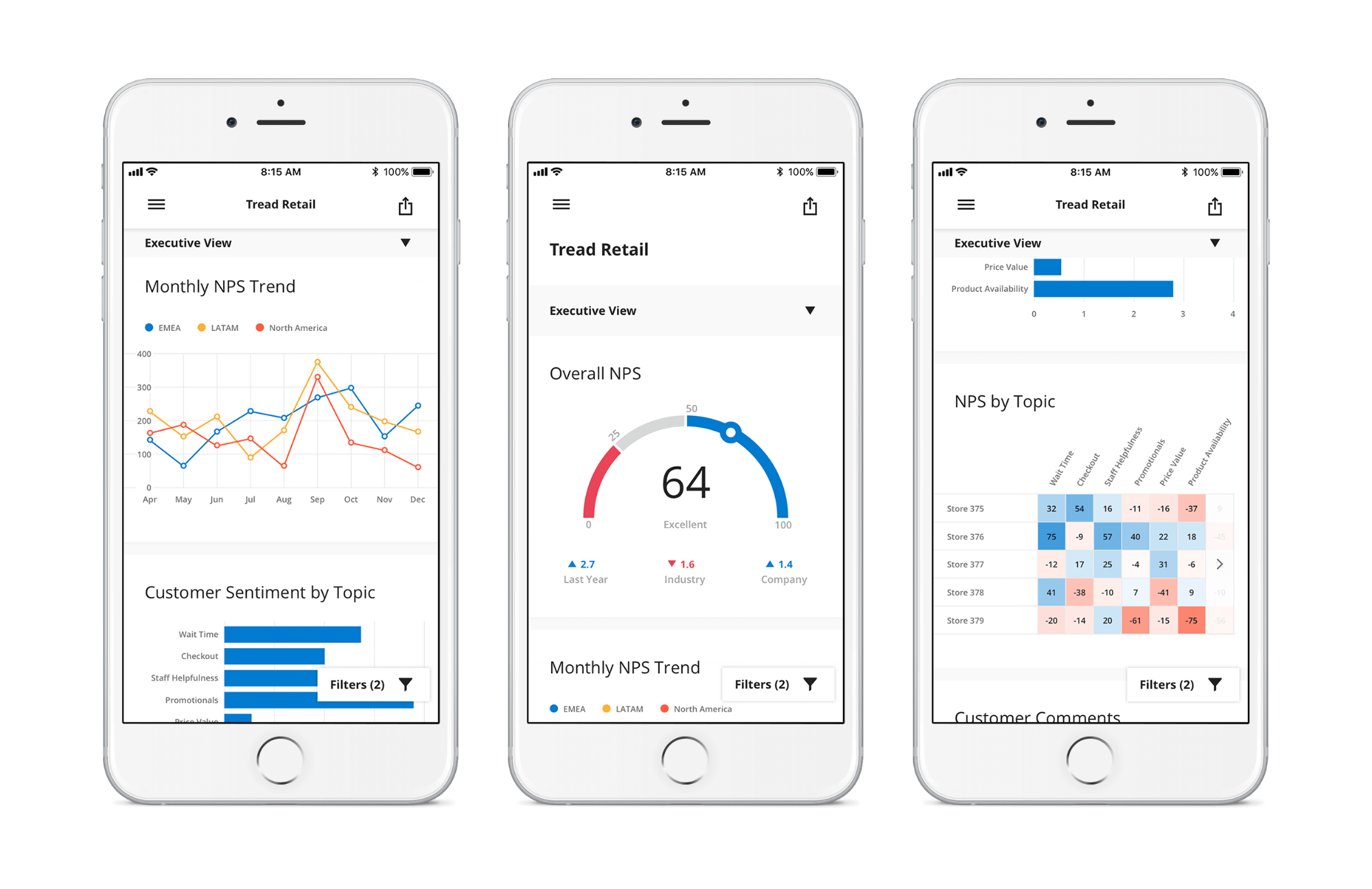 Qualtrics is a popular survey maker, analytics, and employee engagement software. It is a top-rated software by G2 Crowd. It is an intuitive tool that allows organizations to understand the needs of their employees.
Using this software, companies can create different types of surveys. Responses can be gathered either in the form of scores, range, emojis, or simple yes-no. And this helps to extract useful insights.
Some of its key features are:
Employee experience tools to gauge employee experience and satisfaction
Different types of questions can be included in surveys
Prediction of the future needs of employees
Pro-Tip to Gauge Employee Satisfaction:
Researching market trends to find out how modern workplaces are working and what employees expect is vital in the modern competitive arena. Conduct surveys and questionnaires with the newly hired employees and sales team to know employees' expectations and combat dissatisfaction.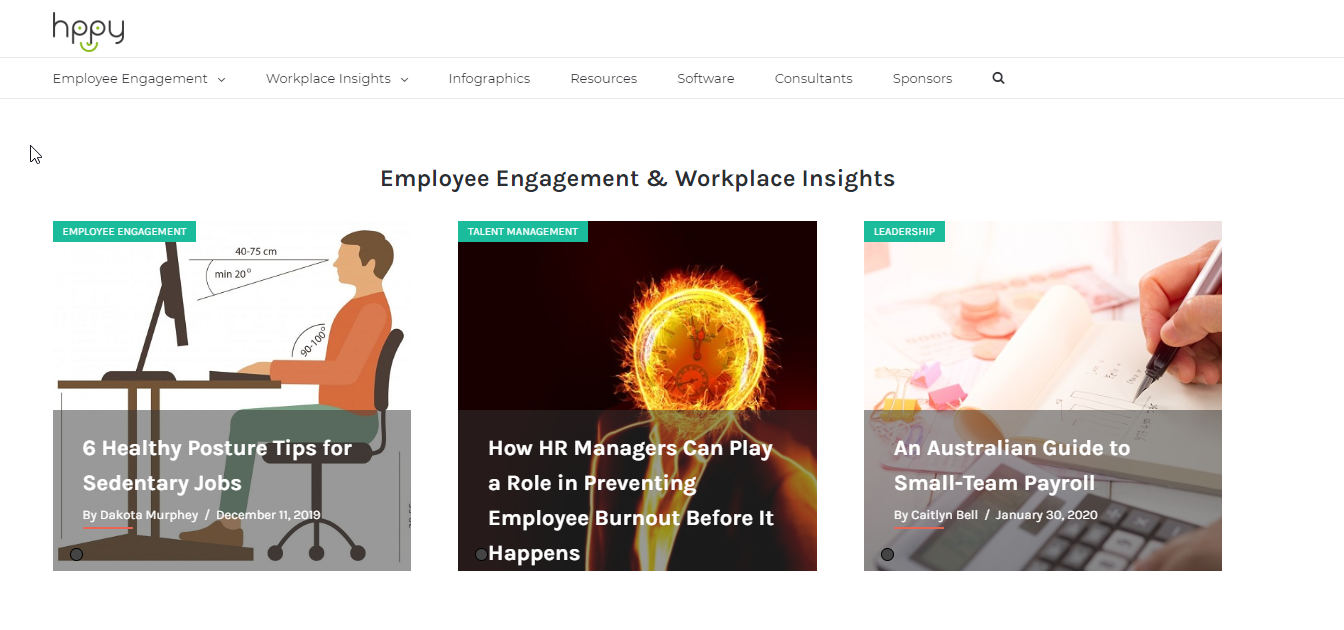 Hppy is a robust platform to gauge employee satisfaction. It allows users to analyze the mood of employees and the key factors affecting the mood.
This tool has ready-made questions, and it even allows users to customize survey questions. However, the response to these questions can only be registered in three moods: sad, ok, and happy. It allows companies to calculate the happiness index based on employee responses.
Some of the chief features of the tool are:
It allows managers to request meetings with employees without causing any hassle
Thank-you cards can be sent to motivate employees
HppyIndex can be calculated to display an overall score of employee satisfaction
Pro-Tip to Gauge Employee Satisfaction:
To step into your employee's shoes, speak to your friends and company peers to understand what matters to them in the job. This will help you learn about common issues. Comparing these issues with your organization will help you gauge employee happiness and satisfaction levels.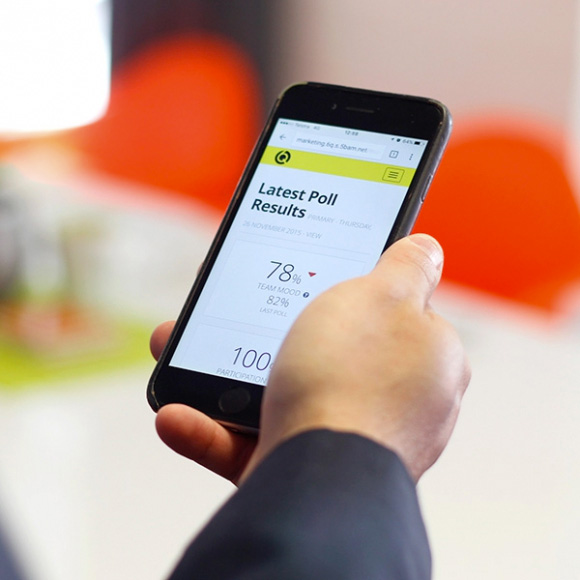 6Q is a survey maker and feedback tool that allows companies to shoot six questions to their employees every week. These six questions can be picked from the library containing a myriad of survey question examples, or surveyors can give custom-made prompts.
It is an interactive and appealing tool. The amazing thing about this tool is it gives employees an option to send high-five to their team members to show appreciation. Users can find reports on previous surveys and compare them with current survey results to get a better idea of employee satisfaction level and engagement with time.
Some of the main features of this app are:
Creative and compelling design
Question bank containing general questions to gauge employee satisfaction
Functionality to pull previous reports to gain valuable insights
Pro-Tip to Gauge Employee Satisfaction:
One of the interesting ways you can use 6Q to gauge employee satisfaction is by conducting exit surveys to get insights on the reasons behind quitting the job. Most honest and concrete feedback will help you create strategies for employee retention.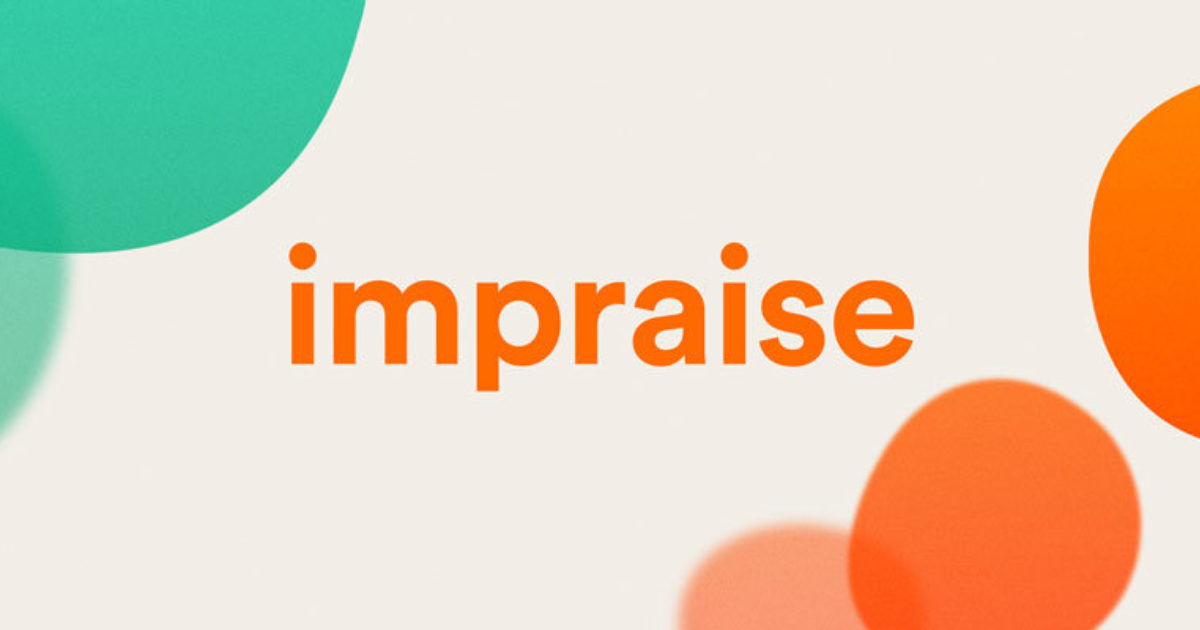 Impraise is an all-in-one platform that allows companies to collect feedback from employees for reviewing. It has a unique feature of peer review, which lets employees give feedback (both quantitative and qualitative) to a fellow member of staff.
This tool is easy-to-use and has an attractive interface. You can create custom survey questions. The responses of the survey are presented in the form of reports.
Some of its key features are:
Review and feedback by peers
Key strengths dashboard
Reports can be kept private or shared with specific people
Pro-Tip to Gauge Employee Satisfaction:
To measure employee satisfaction, managers can have one-to-one conversations with their team members along with taking surveys. This will help managers understand their feelings and pain points and get insights on individual employees' needs.
Closing Note
Currently, employee turnover is one of the biggest challenges that companies are facing. No company wants to spend their time and money in hiring all year round to fill the seats left by employees due to dissatisfaction in the workplace. Hence, companies are embracing survey makers to gather feedback and measure employee satisfaction.
The survey responses indicate motivation level and overall employee satisfaction level. Accumulated feedback can help companies to find gray areas that can be improved to enhance employee satisfaction and boost employee retention. These 10 utilitarian tools, not only aid in gauging employee satisfaction but also play a vital role in converting responses to the organization's blueprint for making necessary improvements.