5 Easy Ways to Engage Your Patients Through a Patient Portal
Have you recently switched to using physical therapy software for your practice? Then it's time to integrate it with a patient portal to make it even more powerful.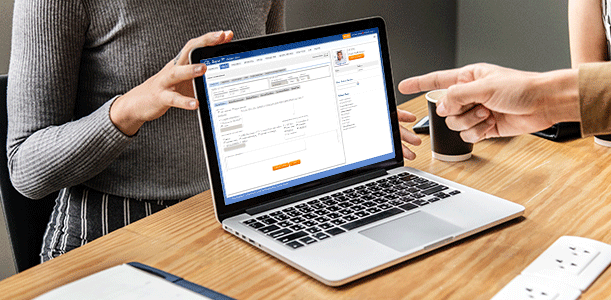 With technology becoming better and more affordable, it's easier than ever to implement a patient portal no matter what the size of your PT practice. Your patients will surely appreciate a secure website that gives them convenient 24/7 access to their personal health information.
Some of the best patient portals even allow patients to do the following:
Securely send you/your staff a message
Schedule appointments
Check insurance coverage
Update their contact information
Download and complete forms
Make payments
View educational materials
Patient portals integrated with physical therapy software and/or patient appointment scheduling software can save you and your patients time while facilitating support care and communication between visits.
Engaging your patients
Patient portals have been in use for quite a number of years now, but engagement has been relatively low, so some PTs abandon theirs without ever truly experiencing the many benefits it can bring.
But now that the pandemic is prompting patients to demand digital access to their physical therapist, it's important to re-examine some of the best practices for increasing engagement.
Why? Because when your patients are engaged, it becomes easier for you to treat them and achieve better outcomes while reducing the costs of care. What's more, patient portals can dramatically increase patient satisfaction and improve the viability of your physical therapy practice in the long run.
So how do you start? Here are some tips:
1. Make your portal user-friendly.
Not all patients are good with technology. It's your job to make the onboarding process easier for them. Some PT clinics automatically enroll their patients and simply provide them their login information, asking them to change their password afterwards. You can also text or email your patients simple step-by-step instructions to assist them in using the portal. More patients will likely use the platform if it's easy for them to get started.
2. Offer features your patients actually need/want.
Here are some of the features patients look for in a portal:
Ability to request appointments
Secure messaging system to communicate with their care team
Visit summaries
Medication history
Viewing of results and clinical notes
Prescription refill request
Ability to fill out intake forms and other such documents
Online bill payment
Ability to update their medical history
Educational resources on physical therapy
If your patient portal doesn't have these features, you may find it harder to get patients to use it.
3. Do your part.
Don't make the mistake of launching a patient portal only to never use it. Your patients may already be trying to communicate with you through the system but are getting no response – except frustration.
Even the best patient portal will be rendered useless if you don't use and maintain it. Failing to engage in the portal may even increase your liability (such as if a patient requests something urgent and you are unresponsive). So make sure that you and your staff check messages regularly. Have a proper workflow system in place to ensure that your clinic is addressing patient needs through the portal.
4. Announce any new features/changes.
Your portal may evolve over time as requirements change. Make sure to communicate new features to your patients. Not only will this allow them to take advantage of those new features – it also shows them that you are serious about taking good care of their health because you are constantly adapting and investing in digital healthcare.
5. Encourage older patients to use the portal, too.
Younger patients are more accustomed to using websites and apps, but this is not always true for older patients. Many of them are simply not comfortable using their phones or laptops to schedule an appointment or check their results/records, preferring to call or walk into the clinic to do these things.
You can make it easier for them to make the switch by enrolling them right away on the first appointment. You can also take advantage of when they're in the clinic to personally explain how to use the portal and why they can benefit from doing so.
Apollo Practice Management software has everything you need to run a PT practice more efficiently with digital solutions, from physical therapy software to patient appointment scheduling software and many more.
Apollo has an inbuilt patient portal that helps PTs to update information about the patient directly to the software, so you can have easy access to all your patient records at your fingertips. From social history, Medication list, Outpatient history, Insurance details, Emergency contact details, and more. Apollo makes it easy to update every little information, so your staff find more time to care for your patients than scrunching for crucial information. Your patient portal when integrated with an effective EMR software can give you incredible results. With Apollo's patient portal, you can do:
Generate a new patient number and send a welcome email to patients
Fill essential patient information and submit the form
Patients can update their personal information as per their convenience, without the need to fill the form only after visiting the clinic in person
Clinicians can directly verify details provided and then book the appointment with the patient over call
Ask us about how our technology can sync with your patient portal and enhance the care you provide your patients while improving your clinic's productivity and profitability.
Personal contact info – slikgepotenuz@gmail.com
Permanent Address :- Montville, NJ
CEO and co-founder at Cloudsmallbusinessservice.com