Developing Software for Insurance Company Management: Things to Consider
Regardless of its type, any insurance company tends to accumulate a lot of data over time. As a result, regular tasks management becomes too complicated and takes too much time. At this point, an insurance company needs a complex solution for fast and comfortable data processing. This solution is insurance company software, which helps monitor staff and customer activities, process incoming calls and e-mails, and solve other routine tasks quickly and effectively.
Keep on reading to find out more information about picking out insurance company software, its pros and cons, and its types.
Main Features of Insurance Company Software
Essentially, insurance company software is a synthesis of enterprise resource planning software (ERP) and customer relationship management software (CRM). This combination makes it possible to optimize the company's business processes in the best way.
When it comes to the features insurance software must have, they can vary from one company to another. A basic set of mandatory features looks like the following:
The possibility of arranging and storing information about the company and its customers
Non-stop monitoring and keeping track of business processes and transactions
Making insurance commission analysis
Making performance reports
The possibility of integrating third-party services
Manage and automate routine business processes
Insurance software can be implemented on different levels: the whole company or its departments. It may come as part of a comprehensive solution or as a separate suite. While the scale and the feature set can vary significantly, there are, at least, four criteria that need to be considered at the stage of custom CRM development.
Adjustability
Flexibility and adjustability are crucial, as insurance is a rapidly changing business sector. Your business processes and goals can change in a year, and outdated software will thwart the progress. Make sure you'll be able to adjust the product to your current goals.
Compliance with Business Rules
One of the purposes of using insurance software is to convert business goals and processes into a standardized form. Good software is the one that complies with up-to-date complex business rules.
Return on Investment
That's not a secret that any software product has its cost. An insurance company must be ready to invest in management software. No surprise the investors want to make sure that it is worth it.
Guaranteed End Result
One can apply the software that had already been used in a similar situation by another company or companies. If you develop a product from scratch, you always risk to get the wrong result. That is why it is recommended to use the services of reputable companies.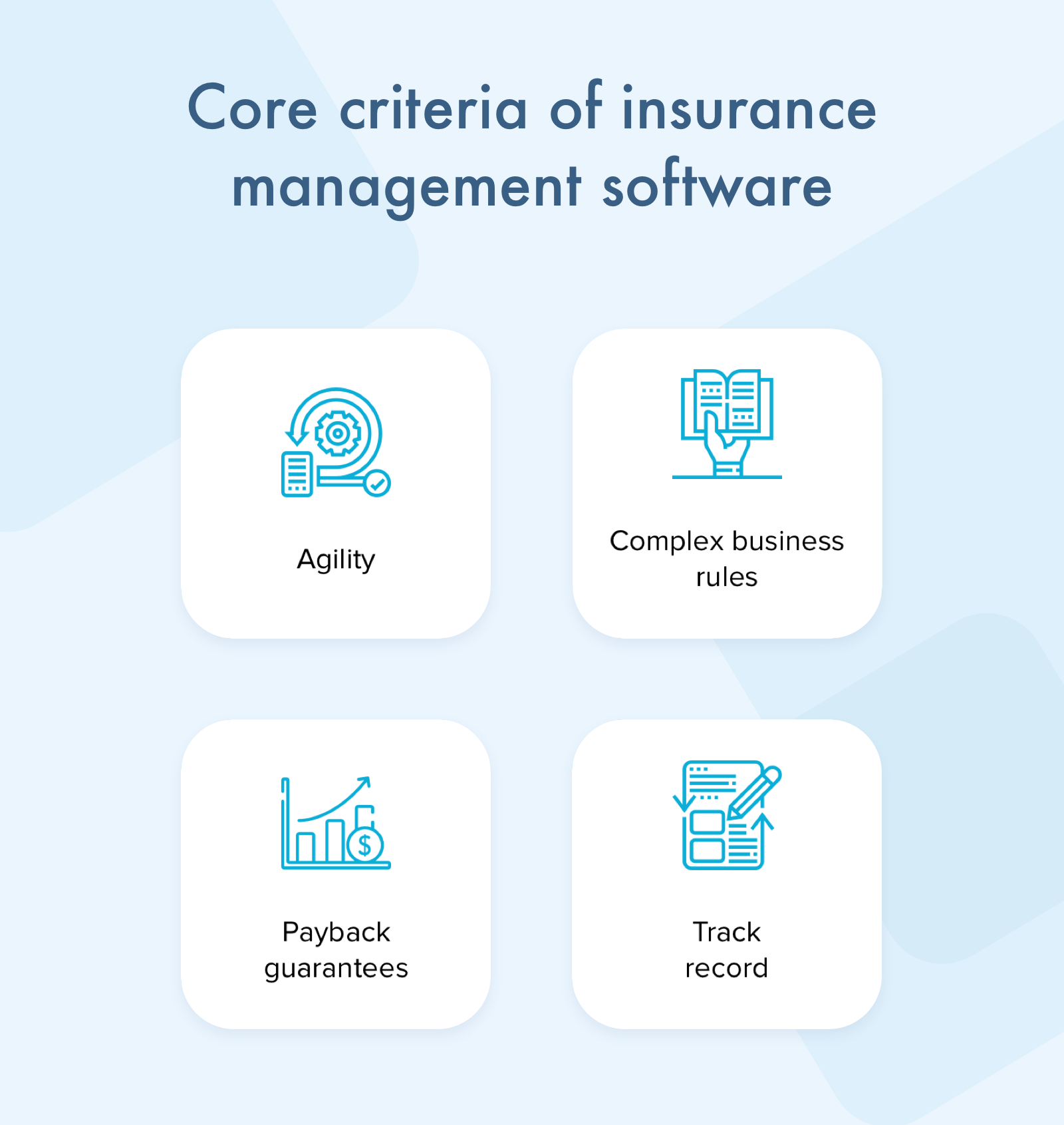 Advantages and Disadvantages of Insurance Company Management Software
Proper insurance software is beneficial to both company's managers and customers. It improves the whole business process and lets fulfill many tasks faster, easier, and more effectively. Let's review the pros and cons of implementing such software.
Advantages of Insurance Company Software
Effective data management. The system analyses tons of data to search and sort out the needed information, as well as making various reports.
Automation of routine working processes. This includes the automatic creation of documents with the use of ready-made templates, processing e-mails, and sending notifications.
Higher accuracy. Using insurance company software lets avoid numerous mistakes caused by the human factor. This is of special importance when it comes to financial transactions.
The possibility of integration. Advanced software products are compatible with other tools, electronic sheets, and services. This also includes integrating telephony tools.
Data protection. Using high-quality software is a good way to protect sensitive information. To enhance security one can use several access levels, two-factor authorization, and other protection tools.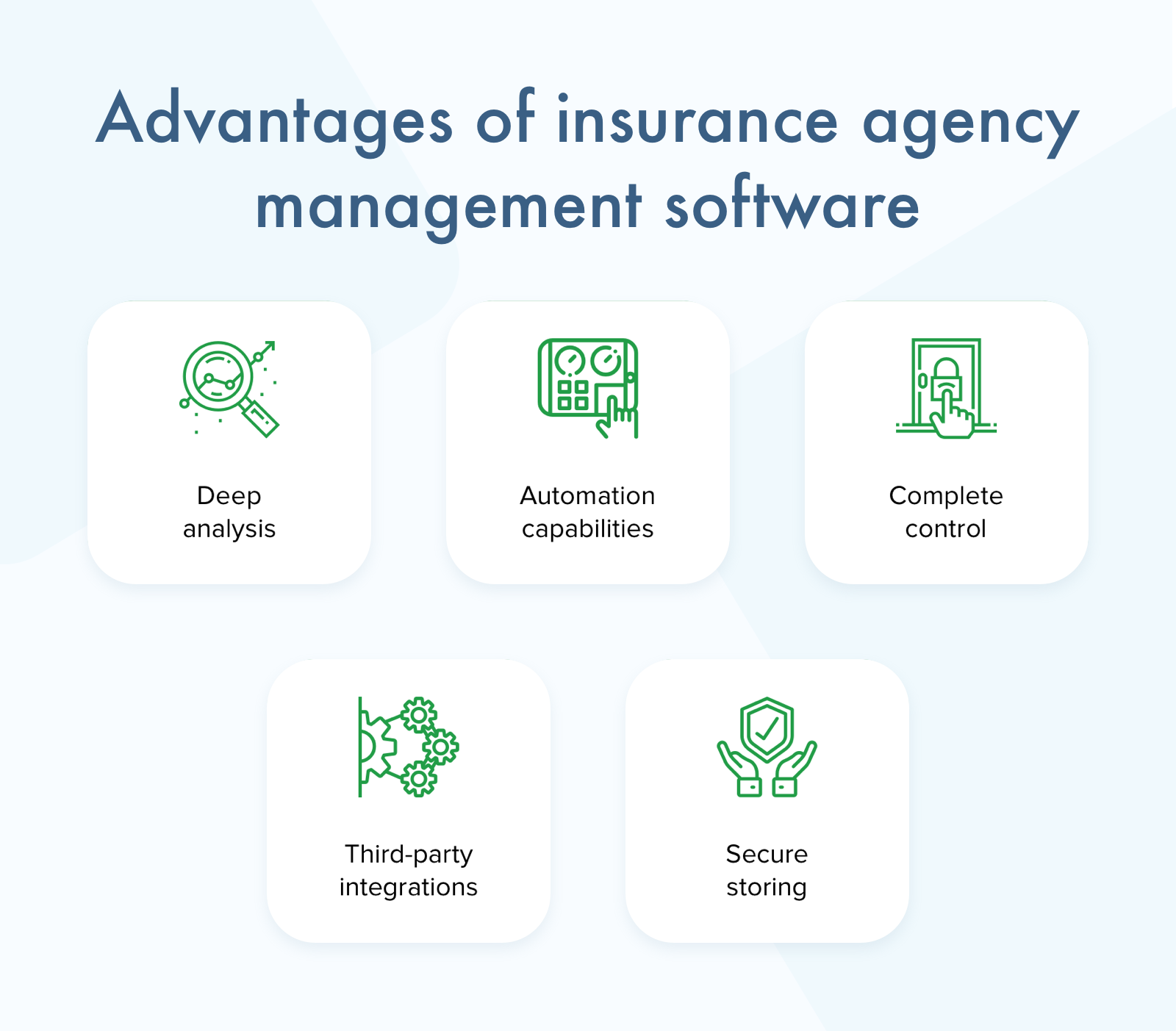 Disadvantages of Insurance Company Software
With that being said, when implementing insurance company software, one can face several challenges that can cause financial losses.
Possible bugs and errors. No matter what type of software you implement, occasional errors are inevitable. Their fixing can cost pretty much.
The need for employee training. To make the most of any software product you must make sure everyone knows how to use it correctly. Employee training will require time and money.
Wrong features. A too simple product can be insufficient for a large complex company, while a top-notch solution with an array of advanced features can be unnecessary and too expensive for a small entity.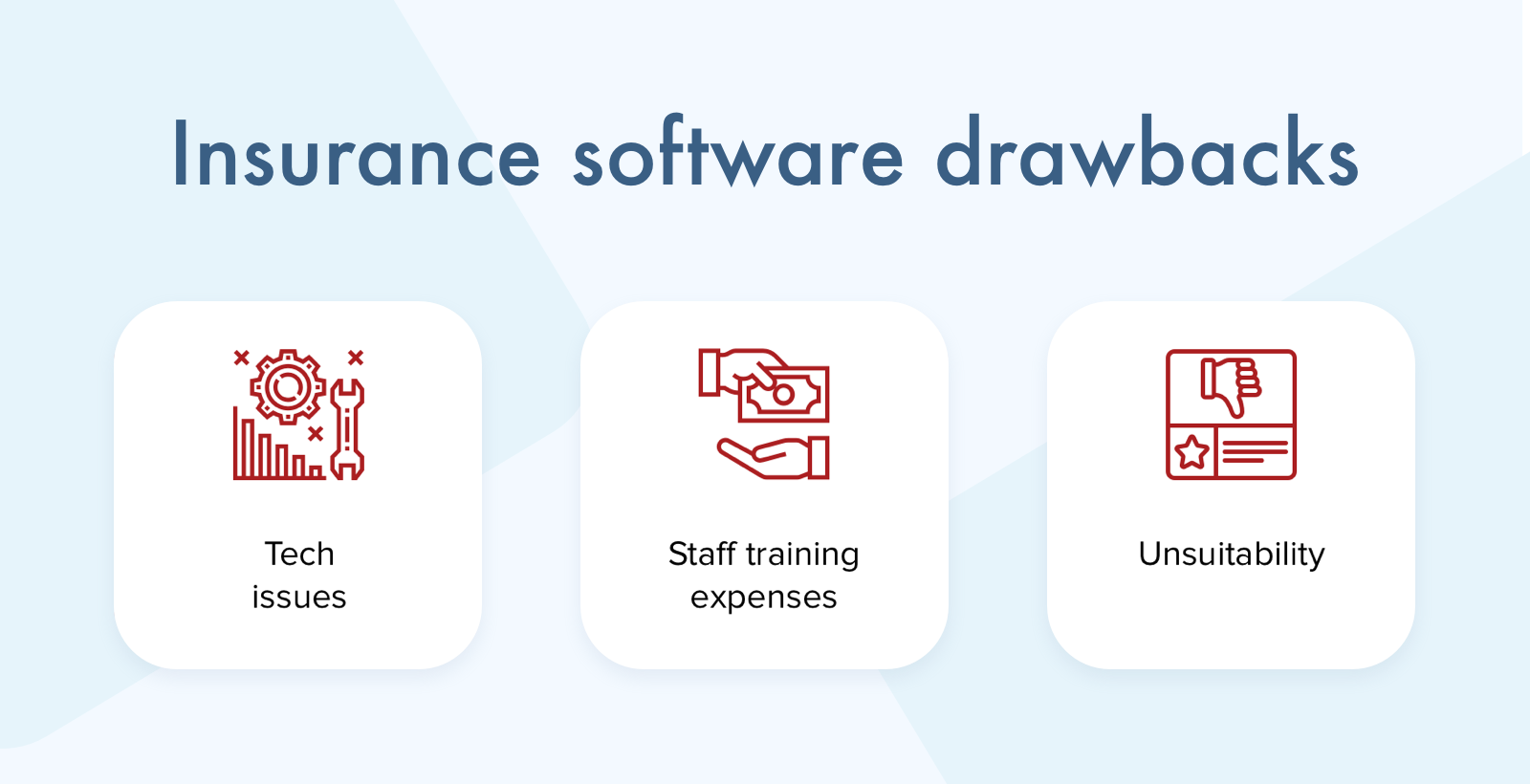 Use Ready-Made Software or Develop from the Scratch: What to Choose?
Sometimes, there is no much reason to develop a new product from scratch, as there are quite a lot of great ready-made software solutions for insurance companies available. However, creating a custom product provides more flexibility. Let's compare the two options.
Out-of-the-Box Solutions
There are plenty of great ready-made solutions for insurance agencies to choose from. While some of them come with open-source code, others require a monthly subscription fee. We'll name just some of them.
Bitrix24 is a powerful and flexible CRM-system, which meets the needs of a variety of businesses, including insurance agencies. It helps manage the customer database, commissions, documents, and so on. It's quite expensive – the price for a small company starts at $1,370.80 monthly.
FreeAgent CRM is another customer relationship solution. It offers secure cloud-based storage and a range of features for easy management. The price for 10+ users starts at $99 monthly.
Indio Technologies is a system that offers a lot of online forms and applications. It also allows for managing contacts and documents.
While ready-made solutions can be of use in certain situations, they have some drawbacks. They either lack some important features or have some excessive ones. Many of them are too expensive and hard to integrate into third-party software.
Custom Solutions
While developing software from the scratch requires more time and money, it is worthy of this. You'll get a unique solution, which will meet the needs of your company perfectly. The main benefits of custom software are as follows:
Only useful features and nothing in excess.
Scalability and the possibility of modification.
Security: your custom software won't be bought and used by anybody else.
Higher competitiveness, thanks to unique features.
Of course, it's for you to decide what to choose, but keep in mind that experienced software developers usually prefer to develop software from the scratch, rather than modify an existing product.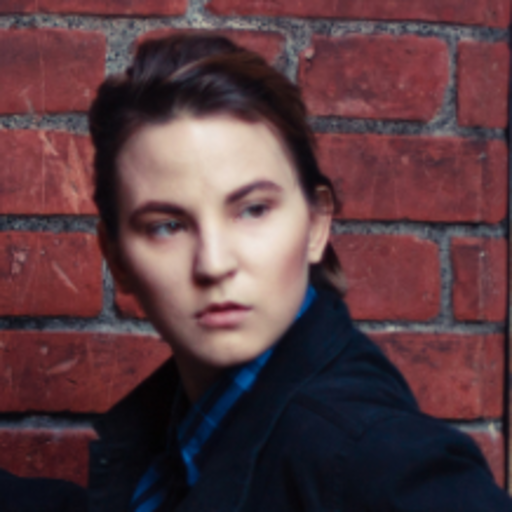 Maria Diachenko is a tech writer at Cleveroad. It's a web development company in Ukraine. Maria enjoys making how-to tech guides, describing programming trends and IoT innovations.