How Cloud Based eCommerce Software Can Increase Your Sales
Cloud technology has made online shopping easier than ever, creating huge opportunities for merchants looking to build an online presence and grow their digital channels. However, in order to stay competitive and attract wallet share, retailers must also make smart technology decisions.
Both enterprises and small businesses continue to embrace cloud at a staggering pace. Forbes predicts that the cloud will make up over 32% of IT budgets into 2021 and beyond. Flexera's 2020 report found that among enterprises with 1,000 or more employees, the increase in cloud adoption amounts to 13% from the year before. In addition, more than half of those surveyed admitted that COVID-19 increased cloud usage.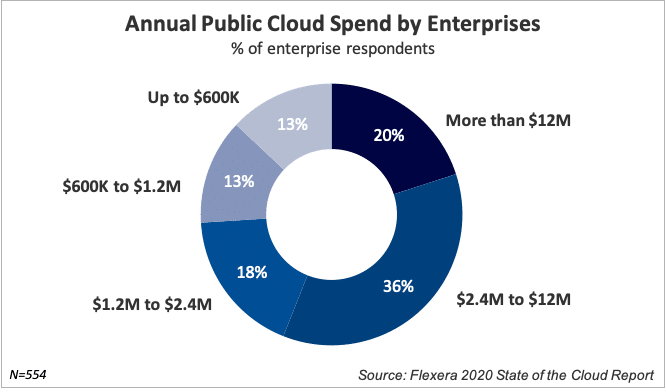 Thankfully, cloud-based eCommerce solutions are great news for eCommerce businesses. They're an excellent fit for agile, growing brands and enterprises alike – companies that prioritize cost-effectiveness, productivity, and great customer experience.
As more and more online sellers swap their legacy systems for systems made for our dynamic, ever-changing world, cloud-enabled eCommerce application adoption will only grow. There are many advantages cloud-based eCommerce software offers merchants. We'll list some of these benefits below.
1. Stability
Digital commerce can be unpredictable, with traffic spikes one day and the possibility of downtime on another. With cloud technology, eCommerce stores are available 24/7, with better reliability and dependability as hosting infrastructure can accommodate businesses regardless of the number of products, customers, or revenue.
One of the reasons for this is built-in redundancy in cloud services which distributes data over many different data centers to eliminate chances of data loss or breach. In case of such disasters, cloud-based systems allow brands to keep operating with minimal or no disruption.
2. Scalability
A rapidly growing business is a great problem to have, but there are also many challenges along the way. Managing infrastructure is one of them, and cloud-based solutions offer the flexibility to add additional server capability, grow product catalogs, and support customers effortlessly.
The flexibility to upscale and downscale allows organizations to appeal to changing demand and dynamics within their industries. Aside from offering a competitive advantage, this also saves them money in the long run.
3. Cost
Most cloud-based solutions operate on a pay-per-use model, matching services according to requirements. It's cost-effective in the sense that there's no need to purchase and maintain costly hardware or software infrastructure, which helps keep IT costs down.
Since you pay only for what resources you consume, this agile approach is perfect for smaller, growing brands. This setup enables them to free up capital and reinvest into growing their business.
4. Speed
It's well documented in eCommerce circles that 40% of customers abandon a web page if it takes more than 3 seconds to load. Digital commerce businesses large or small must devote considerable resources to SEO, copy, layout, and site speed optimization.
Once you make the move onto a cloud platform, it becomes easier to deliver on your promise. Faster speeds increase page views, engagement while reducing churn and shopping cart abandonment. All this has a direct impact on your eCommerce revenue.
5. Monitoring
A cloud service usually includes 24/7 monitoring of your infrastructure and ensures your website or mobile apps offer customers the best experience. Monitoring options give you deeper visibility into your backend processes, team performance, and infrastructure.
With the power of the cloud, you can track any configuration changes, set up alerts, and closely integrate these processes into your IT workflows. Reviewing, triaging, and routing errors gets easier, helping you design your services around your customers and not the tools you're using.
6. Security
Since site visitors only have your eCommerce website to go by, it's important to maintain a relationship of trust with your customers. After all, customers trust that your site has the right product information, processes their order correctly, and delivers their products on time.
Other cloud benefits include GDR compliance, PCI DSS certifications, and SOC 2 audits that assure customers you're protected. Without these, it's easy for customers to assume otherwise and lose confidence in your business.
Conclusion
Enterprises of all sizes are embracing cloud technology at a quick rate, and for a good reason. High availability, flexibility, connectivity, and disaster recovery all prove to be compelling reasons for doing so.
Today's tech-savvy customers have high expectations from their eCommerce experience. They require quick websites and intuitive experiences that work without fail on any device. As the cloud eCommerce market grows, these trends will spill over into adjacent, industry-specific commerce markets. The only question is how quickly digital transformation initiatives mature across various industries.
Personal contact info – slikgepotenuz@gmail.com
Permanent Address :- Montville, NJ
CEO and co-founder at Cloudsmallbusinessservice.com