Mobile App Development-Tips and Tricks
Every developer has a dream to create or build their own apps. You can apply any technology according to your expertise. So, far there have been many seminars and meetings related to development skills, but we have to opt for the perfect app development tool and should follow a mobile app development guide to achieve the maximum results and accuracy.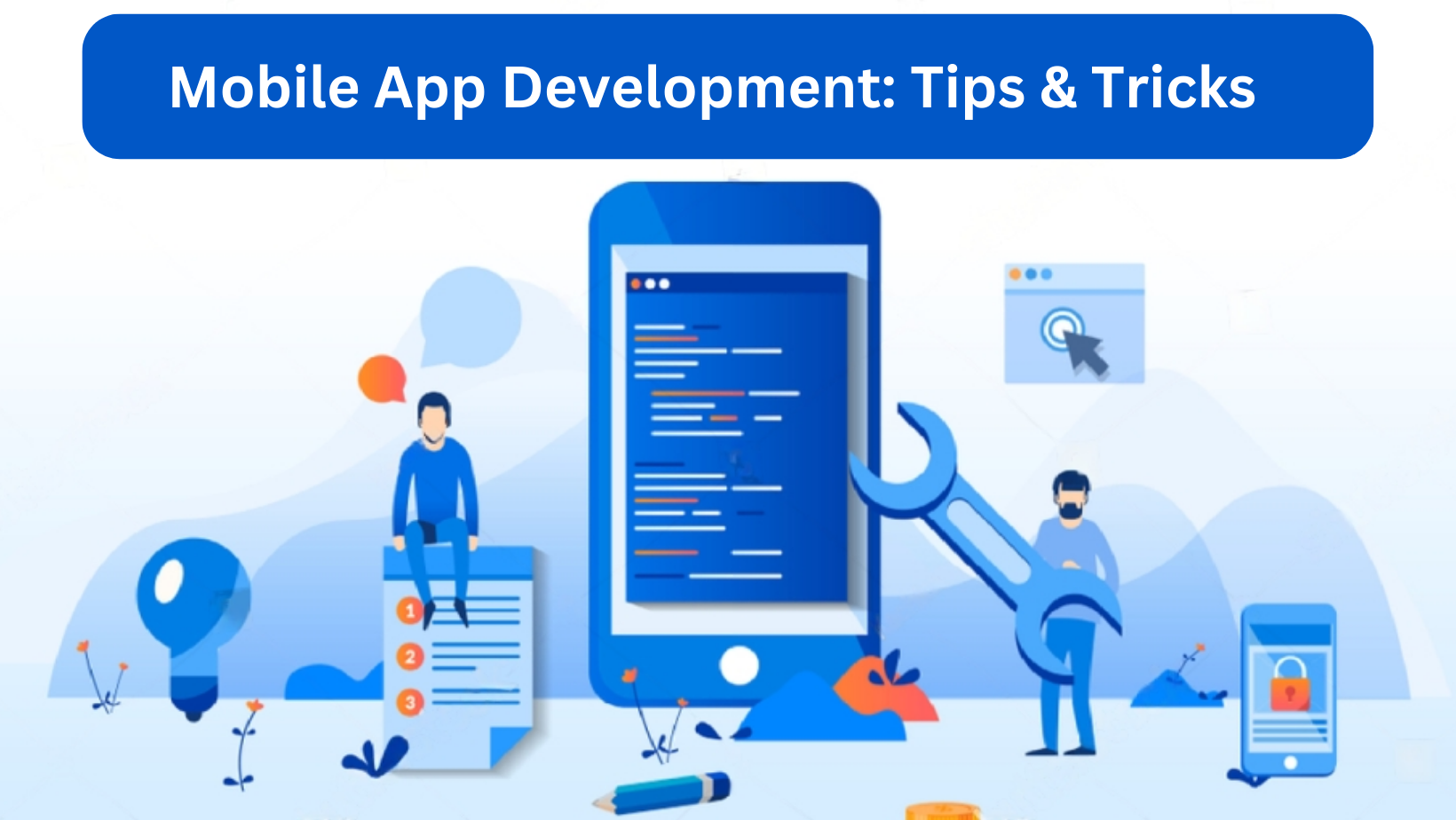 It is true that the importance of "Mobile app development" has grown after the pandemic. Due to lockdowns all around the world, people use mobile apps and online platforms for everything like groceries, online clothing stores, and more. According to research, the number of mobile app downloads has grown to 218 billion app downloads in the year 2020 only. This increase in downloads is nearly 6.86% from the previous year. And it is proven that mobile app downloads have increased by 25% between the year 2018-2022.
However, even if you have a brilliant idea, if you do not know the coding or development knowledge required for app development, it is difficult to challenge app development willingly. So, at this time, this article will show you how to create an app without much knowledge of coding or programming, if you thinking about app development, please pay attention to this article so you can learn some important tips and tricks for the mobile app development process.
Tips and Tricks on how to Develop a Mobile App?
Before you start to think about making an application, you need to know the basics of mobile app development. The app services are divided into two major categories and that is Android and IOS.
Android apps run on the google play store and for IOS apps you need Apple's app store. Then if you want to create and monetize your app, you will need two apps. At this point, if you want to support two platforms, you need twice as many development resources. There are methods of app development such as native apps, mobile web apps, hybrid apps, and more for developing apps.
If you want to develop apps and provide services, you must develop Android and IOS-based programs.
Android Applications
The Android operating system was created by Google. The developed application runs on the android platform. These apps are developed on Android Studio which is a platform provided by Google for the development of android applications. You can use development languages like JAVA, and Kotlin. These applications can run on any mobile phone that supports the Android Operating System. For example, Samsung Galaxy, Samsung note, and more.
IOS Applications
IOS is the mobile operating system and is created by Apple and used in iPhones, iPods, and iPads. XCode is a platform provided by Apple to develop IOS applications. You can use languages like Objective-C or swift for the development of your application. The benefits that IOS applications provide are excellent security and easy sharing of documents, applications, contacts, photos, etc. of Apple products and computers through the iCloud system.
Below are some tips for developing an outstanding and amazingly functional mobile application;
Learn to Code Quickly
If you want to create a mobile application without hiring an app developer, there is a way to learn to code yourself. coding is in many ways similar to learning a new language. It takes a lot of time to learn coding skills, but there are many sites and platforms on the internet that makes it easy for you to learn coding in a few hours or days and the best part is, you can find these sites which provide online coding courses for free.
An online platform where you can learn programming. They provide programming languages such as JAVA, JAVASCRIPT, Python, RUBY, etc. these online platforms are easy to use and are one of the fastest and easiest ways to learn coding and programming. They provide courses for beginners to learn from scratch. These sites also provide you with certifications and take quizzes to track your performance.
Use Application Builders
If learning too seems difficult and time taking to you then you should go for a variety of application builders. Application builder allows you to create simple mobile applications without any prior programming knowledge. Many DIY application development services provide drag-and-drop functions, so it is very easy to use.
An application builder that allows you to create the desired application with all the functionalities and features you want in it, with simple mouse operation without coding. You can start a project with just your google account, they are very convenient because they are compatible with every operating system and model.
Outsourcing
If you do not want to spend a lot of time in building your own application from the scratch, eventually, the best way is to seek help from an expert developer in the field. If hiring an app developer seems difficult or costly to you, you can always go for outsourcing to execute your project immediately. This frees internal personnel to focus on core tasks while outsourcing the rest of the additional; tasks to external personnel to efficiently utilize resources. You just need to disclose your requirements for the project like functionalities, features, platforms, and if you need any specific language and the rest is not your task to do. You just need to contact an expert from this field and you are good to go.
Final Words
So, far you know now what you need to do for developing your own application. I hope this article has been helpful to those who have been worried about the cost and burden of development.
Personal contact info – slikgepotenuz@gmail.com
Permanent Address :- Montville, NJ
CEO and co-founder at Cloudsmallbusinessservice.com