Ultimate Guide on Dynamics 365 Modules
Agility and impatience are the distinguishing characteristics of a resilient business during this moment of historic economic, societal, and technological upheaval. Companies need to navigate the realities of modern selling to thrive in such a disruptive environment.
Today, business needs an intelligent, pre-built, and ready-to-go solution that can actively monitor myriad signals and distills them into actionable insights that helps your entire organization to make decisions faster, enhance collaboration, encourage engagement, and streamline productivity.
The core capabilities of cloud computing and Microsoft Dynamics 365 have attributed to streamlining the business environment. Dynamics 365 modules offer business automation, wireless connections, and next generation modern ecosystem that equips the organization with limitless opportunities to thrive in a disruptive atmosphere.
What is Microsoft Dynamics 365?
From the back office to the front line, Dynamics 365 links people, data, and customers to bridge sales, services, and storefronts with integrated business applications to reach more customers in more places.
Dynamics 365 provides robust, user-friendly, and contemporary business solutions that let organizations make an impact more quickly and advance in lockstep with the pace of change.
Dynamics 365 application enables the business to be powered by the cloud, data, and business intelligence so that every decision and action moves you closer to your vision.
Uses of Dynamics 365 application Suite:
Dynamics 365 applications provide continuous insights and unify the data across the organization to unlock greater visibility.
Aid businesses to react faster when new businesses need change or demand change.
Simplify work across the project lifecycle with easy-to-use project management tools.
Understand, identify, and predict customer behavior to bring your customer into focus.
Modernize your on-premises solutions to enhance engagement, collaboration, and connectivity among the employees.
Turn ability into action in real-time.
Comprehensive Overview of Dynamics 365 Modules and Application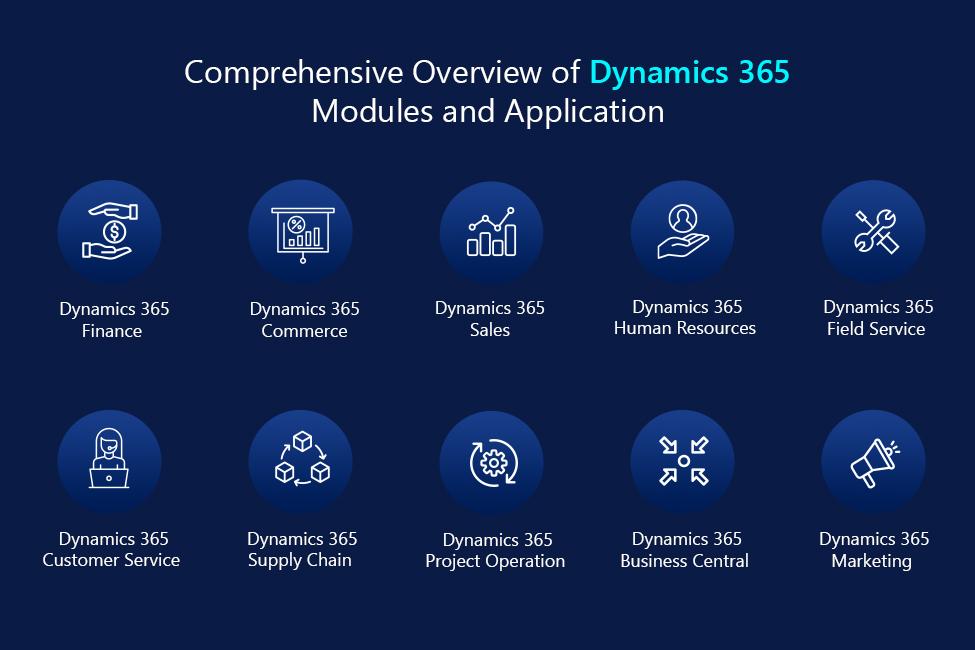 Dynamics 365 Finance
Dynamics 365 Commerce
Dynamics 365 Sales
Dynamics 365 Human Resources
Dynamics 365 Field Service
Dynamics 365 Customer Service
Dynamics 365 Supply Chain
Dynamics 365 Project Operation
Dynamics 365 Business Central
Dynamics 365 Marketing
Dynamics 365 for Finance and Operation
Dynamics 365 for finance and operations offer automation for business warehouse operations, aids in planning and freight reconciliation for the transportation industry and assists in creating budget planning worksheet templates in Microsoft Excel. Dynamics 365 for finance and operations module aid businesses with:
Quick account closing capabilities.
Build accurate and valuable business reports.
Enhance financial performance and visibility.
Strategic management of accounts, inventories, and operations.
Dynamics 365 for Commerce
Dynamics 365 for Commerce is a solution that provides a unified retail experience and enables retailers to create relevant shopping experiences across all channels. Inventory, channel management, and merchandising are just a few of the many retail processes that are fully supported by this module. While producing a superior customer experience, D365 for Commerce assures data security compliance.
Dynamics 365 for Commerce assist businesses with:
Efficiently run multiple stores and increase revenue.
Quick to change to meet your client's needs, which are constantly evolving.
Utilize customer data to lower satisfaction costs, improve inventory, and streamline your firm's productivity.
Dynamics 365 for Sales
Dynamics 365 for sales allow you to handle all your leads and opportunities from a single, consolidated database to create impact faster for enhancing customer experience and offers various automation options, from automated email campaigns to producing proposals, quotes, invoices, and other documents.
Dynamics 365 for sales help organization with:
More proactive and responsive in business communications.
Integrate Microsoft software like M365, Microsoft word, Excel, teams, HRIS, and many more for positive outcomes and faster, easy decision-making.
Provide insightful customer data to enhance customer experience.
Dynamics 365 Sales synchronize LinkedIn Sales Navigator to offer sales leads and provide in-depth information on LinkedIn member profiles to establish the first contact quickly.
Utilize real-time dashboards and analytics to gain visibility and understanding of sales performance.
Dynamics 365 for Human Resources
Organizations can create a management structure that matches their organizational hierarchy, work culture, and business ethos with the help of Microsoft Dynamics 365 HR. Additionally, it gives employees the most delicate working atmosphere imaginable and motivates them to perform better for the company's benefit. Check the top HR Software for Small Business.
Dynamics 365 for HR support organization with:
Support, expertise, and experience can transform your business to a supreme level.
It enables acquisition, engagement, growth, and retention for your employees.
D365 for HR manages and automates various routine processes, such as workforce training, employee benefits, performance reviews, management changes, and more.
Dynamics 365 for Field Services
Dynamics 365 Field Service offers customers on-site assistance. The software combines process automation, scheduling algorithms, and mobility to equip mobile professionals with the skills they need to resolve issues on-site with clients successfully.
D365 Field Service equipped with capabilities like:
Ensure First-time fix of on-field issues.
Monitor, observe, and analyze client issues.
Leverage valuable insights and analytic overview.
Deliver seamless communication.
Enhance productivity and efficiency among the on-field workers.
Dynamics 365 for Customer Services
In this new world of work, it is essential to keep employees and customers connected no matter where they are is new normal. Hence d365 customer service module keeps your customer connected and enhances engagement to deliver the experience that your customer deserves. D365 customer service provide one platform that unifies data, process, people, and insights to bring your customer into focus and win the customer for life.
D365 for Customer service aid business with:
Quick ticket raising and swift automated solution.
Track all customer journeys for a better customer experience.
Identify, understand, and predict customer behavior through in-depth insights.
Automate the report of incident or failure of services instantly to the concerned department.
Dynamics 365 Supply Chain
Dynamics 365 for supply chain streamlining supply chain operations, automating repetitive procedures, and increasing pipeline efficiency. Additionally, businesses may get a quick yet detailed picture of their daily operations for rapid decision-making and enhanced productivity.
D365 Supply Chain enables your business with:
Better insights into the warehouse and operational activities.
Aid in increasing the lifespan of assets.
Provides a single solution to support a variety of maintenance types, including predictive, corrective, conditional, and preventative.
Dynamics 365 for Project Operation
D365 for project operation empowers teams to accelerate project success and interlink the sections across sales, resources, and finance within one platform to maximize productivity and competence.
D365 project operation facilitates your business with:
Create and build better visibility on your project operation.
With the aid of AI and machine learning design, plan, and organize your project to streamline project operation.
Assist businesses in completing projects within the given time frame.
Dynamics 365 for Business Central
Today's market isn't just competitive; it's constantly changing every day, bringing something new. Integrating the business central module across your business will equip your organization with what's next and unlock limitless possibilities.
D365 business central equips the organization with:
Enhancing monitoring Visibility.
Automate the operation.
Speed-up sales process.
Dynamics 365 for Marketing
D365 for marketing assists organizations by automating marketing operations to convert leads into customers. With AI integration, businesses can develop effective marketing messages, templates, and campaigns, as well as client connections, to enhance customer engagement and connectivity.
D365 for marketing furnishes organization with:
Complete online marketing strategies.
Built customer trust and loyalty.
Aim for the right customers and produce valuable leads with actionable insights.
Conclusion
Every company will need to be a technology company, and every company needs more ubiquitous and decentralized computing power for better growth and development of a sustainable future.
To flourish and thrive in this age of AI, businesses need to dive into the ocean of technologies like Dynamics 365 to build their sovereignty and intensify their business tech.
Hence embark and choose the wise module offered by dynamics 365 to make your organization more profitable, intelligent, and adaptive.
Choosing sensible and experienced Dynamics 365 development company is advisable for better growth and development of your organization.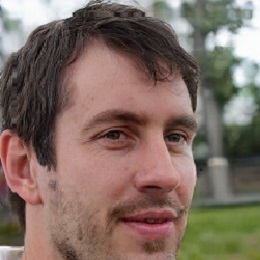 Michael Donald is a senior IT Consultant at Microsoft Dynamics 365 Services Provider, Bitscape. He has unified experience in adding values to the existing technological architecture of various businesses. During his professional journey, he has tackled a wide range of challenges and have built the ability to work through challenging issues for any industry.