Top 10 Best Software To Retouch Old Photos
Who does not want to restore the old images? Old photos are part of our lifetime memory. We want to keep them alive. The task is a bit easy to give life to old photos. A little touch up can give life and color to your damaged photos. If you want to restore the old photos, you will have to know about the editing software before you start. We are going to review the top 10 photo retouching software. If your old photos are extremely damaged, this software will work great for you.
How do you define photo restoration?
Before we get to know about the most used photo restoration software, we want to make your concept clear regarding photo restoration and its work process.
Your old photos can be destroyed extremely due to water, chemical, or disaster. But it is possible to give a completely new look at the damaged photos. The photo restoration process works to make photos look new like before. It enhances, correct, and upgrade the old photos.
You can think that photo restoration is the process of repairing the old photos only. But it is more than repairing. Giving an improved look to the photo is the process of photo restoration. The image restoration process is used for years after years to restock the old photos. With this technique, it is possible to give the old images a new and fresh look.
Several software programs have made it possible to restore the damaged and extremely damaged photos. This software comes with the essential set of tools that are needed to restore photos. With a little practice, it is possible to be an expert in photo restoration.
What is the best software to retouch old photos?
You will be surprised that you can save hundreds of old photos from your past. Digital technology has made it possible to store old memories. You can repair them for your lifetime. You can think that it is a hazardous task to retouch the old photos. But surprisingly, it is easier than you imagine. Using numerous photo retouching software has made it possible to restore photos with several simple steps. Most of the software is able to fulfill your needs for restoring images. We are going to make you know about the top software to retouch your old photos.
If you don't have time to learn all these photo restoration software but would like realistic results asap, you may address professional photo restoration services that can restore your photos damaged by time/fire/water or even colorize them at an affordable price.
Old Photo Restoration Software

Old Photo Restoration Made Easy
SoftOrbits Photo Retoucher can automatically detect and remove common defects in old scanned photos and film negatives including cracks, scratches, dust and torn edges. The tool's smart fill algorithms are employing artificial intelligence to patch imperfections with data interpolated from adjacent areas, effectively restoring missing parts of the image without a trace.
Easily Add Color to Your Black and White Photos
Bring new life to old photos by automatically colorizing them using the cutting-edge technology. It uses deep learning AI to create remarkably realistic results in just seconds with zero work on your part.
Touch Up Digital Images
SoftOrbits Photo Retoucher will help you remove unwanted objects from an otherwise perfect scenery shot, fix hanging wires, and delete annoying shadows. Content-aware smart fill algorithms will carefully reproduce the original background behind the objects being cut, producing a stunning, natural-looking image out of an ordinary capture.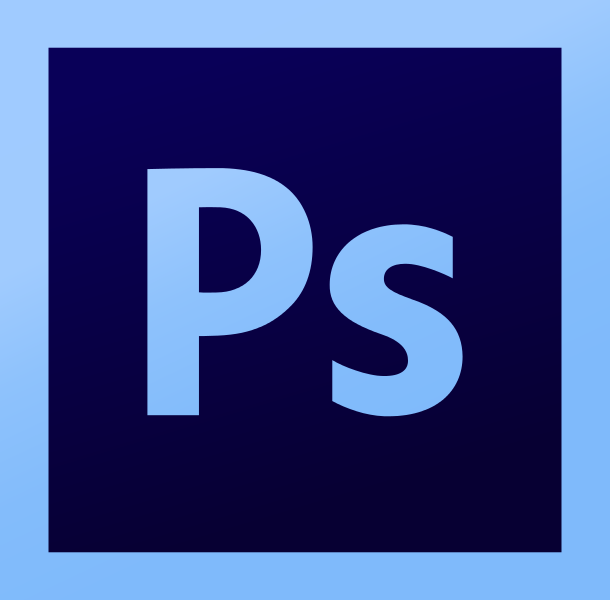 Which software works great to edit your old photos? Whether the purpose is to edit, Image retouching, or restore your photos, one software comes as the best one. Designers worldwide use Adobe Photoshop to make changes to take the look of the photos into a new level. This software comes with the exclusive tools and techniques that allow you to edit, retouch, and restore photos. There are a lot of tools and software available which can be used to restore photos. But no other software works like the Adobe Photoshop. The top and best quality software to restore old photos. You can make any sort of adjustment that you need to make in your photos. This software gives a new look to the old photos completely.
The software Retouch pilot works to remove any sort of imperfections that appears in the photo. This software helps you to remove stains completely, scratches, and spots form your image. It is a great tool to restore damaged photos. But if your photos are extremely damaged, you need something that works for advanced editing. You have to use the software that allows for advanced editing. It will be a good choice if you want to restore your photos. You can remove any sort of elements that are making your photos look messy.
If you want to get the software to retouch and restore your photos, you have to get the AKVIS retoucher. This software is an efficient software that can restore your old photos. You can remove any sort of dust, strain, and starches from your old photos. You can repair your photo that it will look like the new photos. This software has become a reliable tool for editing photos to a huge number of designers. It works like magic to make old photos smooth and look like the new ones. Because this software comes with the set of tools that are needed to restore the old photos.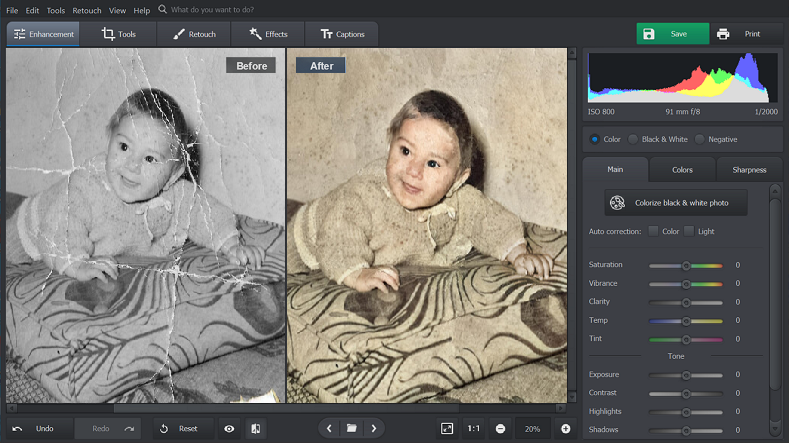 PhotoGlory is a handy picture renovator for images damaged by time. It allows recovering faded photos with scratches, creases, and even torn edges in a couple of minutes. What's more, you can use the program's automatic colorizer to make B & W images colored, or go with the manual coloring tool instead. This will help your retro picture regain the tones and vibes of the good old days and become a beautiful piece for sharing online or for including in the family archive.
PhotoGlory also offers such features as portrait retouch, noise reduction, cropping, and rotating. So you can further work on the quality of the image. While experienced photography enthusiasts can balance and emphasize the colors of their pics with such pro tools of the software as Curves and 3D LUTs. Finally, users can add quotes, dates, and frames to give their retro photos an artistic finish.
Features of PhotoGlory:
Cut or recreate damaged parts of the image
Erase creases, burned spots, and noise
Colorize B & W pictures automatically
Rotate photographs with bad angles
Color correct and enhance pictures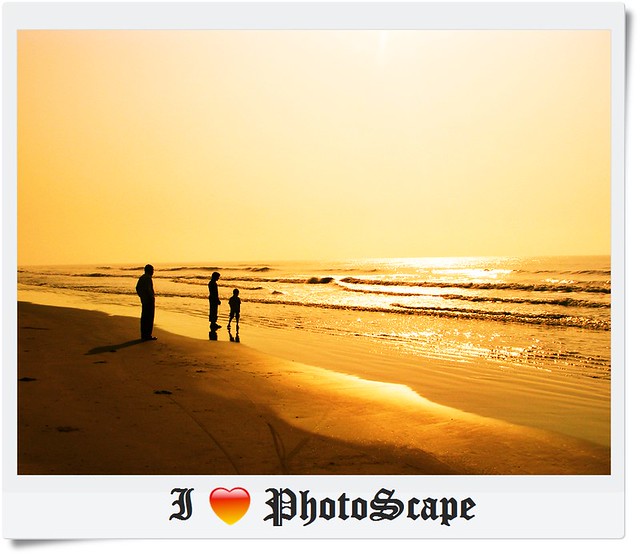 What and what more you need to restore your photos? Everything and every set of the tool will come with this software. This software offers a full set of tools that you need to edit and enhance your photos. You will find everything that you need in this software. You will be satisfied with the effects that the software offers. You will be fully satisfied with the changes that the software can bring. If you want to work on your PC with this software, you will not find any software like this. You can restore images the way you want to make it look like.
Image mender is the photo restoration software that offers any kind of adjustments that you can make to your old images. It comes with a hassle-free photo editing process. You can remove stains, scratches, and spots. You can remove unwanted elements from your picture. Every kind of adjustment you can do with this software. The work process is very easy. You just have to open the image which you have to restore and bring changes. The software allows repairing your images in a way that you can reserve it for the lifetime. You will be inspired more to work with it. Because it works very fast. Once you start to work with the Image mender, you will be surprised at the result.
GIMP:
Do you want a photo editing software that will be more than software? The GIMP will be the perfect software for you. Based on the quality of photo editing, designers find it like an alternative to Adobe Photoshop. It comes with a bunch of tools and features that are perfect for restoring old photos. GIMP is known as the top photo restoring software for designers around the world. All the high-quality functions and tools work more than an editing tool. You can restore your damaged photos in numerous ways. As it is a high-quality photo editing software, it offers any sort of editing for the old photos.
If you are seeking extraordinary software for your damaged photos, you have to use PicMonkey. It is a great quality photo restoring software. Designers find it as reliable software. You will like to work with it as it is a high-quality tool. This software comes with all the extraordinary editing tools and features that you need for photo restoration. It is powerful software yet, but it is easy to work with it at any level of complexity. All of the tools that you need to work for restoring your old images.

Fotor is the photo editing software that works great for the restoration of photos. It comes with all the necessary features for editing images. One of the strongest features of this software is the photos restoration. It features all the tools for restoring and retouching the old photos. You cannot compare the tools in Fotor with the other software. The faded photos can be turned into sharp and colorful photos. If you need to do complex tasks to restore your photos, you will get the essential tools in Fotor.
Fotophire editing toolkit:
Fotophire editing toolkit is the photo editing application that comes with basic photo restoration tools. This software offers not only the photo restoring tools but also the photo retouching tools. It enables you to apply several filters for making photos more attractive. You can crop the photos after you restore it. You add text, frames, and textures to your photos. Overall, you can give the desired look to your old photo with the Fotophire editing toolkit.
Inpaint is the specialized photo restoring software. But it is considered as a basic photo editing tool. This software is basically designed to remove the unwanted parts and elements from images to make them look great. If you are completely new with the photo restoration tasks, you can use Inpaint. If you have not used any other software before or if you do not have any experience of using photo editing software, you can work with this software. It comes with the interesting features that have made photo restoration easier. If you do not know how to work with Inpaint, you can watch tutorials on YouTube to learn more.
If you like to use Adobe Photoshop, you get your task done with it. But if you want to use any other software, it is totally up to you. We have reviewed the top software for photo restoration. But you have to decide which one you will be using. But make sure that you use the software that results in your desired outcome.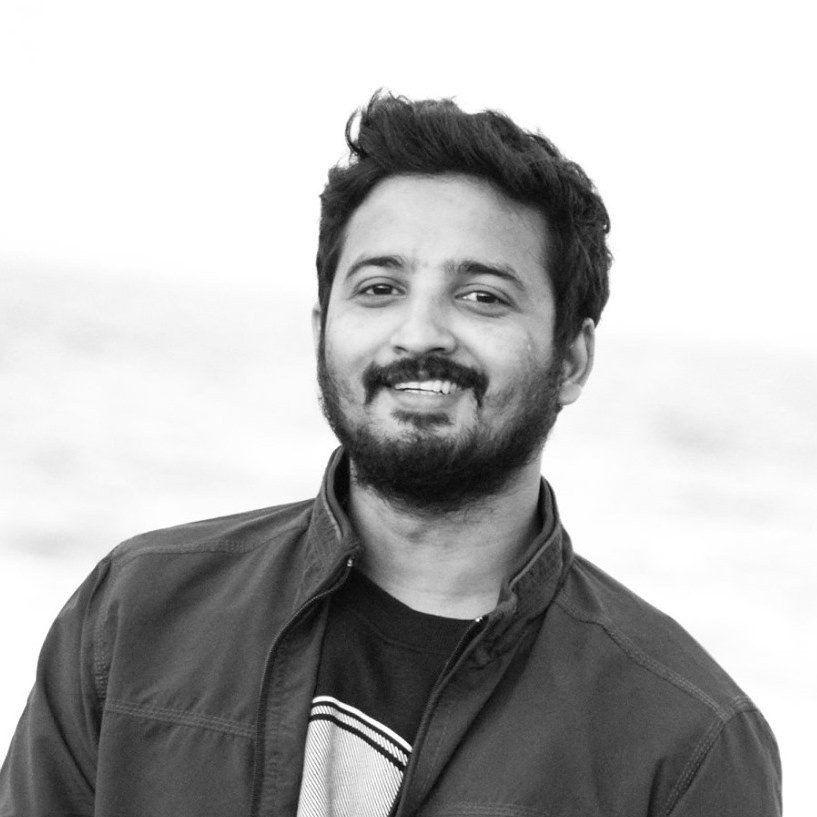 Sayal rubel is a professional graphic designer who is an expert in clipping path and image retouching. He is working as the managing partner at The Image retouching lab.