Ultimate Guide to Build a Ride Hailing App like Uber
Uber is the synonym of ride-hailing app. Not because they came up with this cutting-edge concept in the year 2010. But, because they came with an expert methodology of doing on-demand business. After so many years of its existence, still, it manages to be at the number 1 position in revenue collection.
Uber has impeded the way people carry out their businesses. The on-demand business model of Uber got so many applauds that companies and start-ups prefer to name their product as 'Uber for X'. 'Uber' has transformed the complete thought process of the enterprises who have a new idea in consideration with on-demand industry. Considering all this, it would be not wrong to claim it the era of Uberisation.
Why a Ride Hailing App Like 'Uber'
Let us see through data why this service industry actually needs a ride-hailing app like Uber.
The market share of rideshare drivers of Uber in the US is 87.6%.
The USA has the second biggest global share in ride-hailing market preceded by China.
It is expected that by the year 2023 the global users of ride-hailing app will reach 808 million.
The revenue from ride-hailing segment is expected to reach 13373 million USD by the year 2023.
According to Statista, in the year 2018, 95 million people used Uber app on a monthly basis. The global net revenue of this ride-hailing app amounted to 11.3 USD.
The global market share of Uber reached 72 billion USD in May 2018.
Ride-hailing segment is a great contributor to the global economy. To get into the business definitely, you need an app first. For this, all you need is to hire Android app developer or iOS developer. But, before that you 'Uber Clone', you must learn how the ride-hailing app works.
Business Strategy of 'Uber'
The first and foremost thing to consider here is the important elements of 'Uber' App, so here it goes. There are basically three panels of the app:
Passenger App
Driver App
Admin Panel
The modular approach of the passenger app is different than that of a driver's app. You can understand it better with the infographic mentioned below:
Any ride-hailing app relies on the development of two different apps with different functionality (collectively passenger app and driver app) that are interconnected with the help of an admin panel.
Features of Passenger App
Important features of the passenger app for 'Uber' or similar app are:
Registration or Sign Up
Taxi Booking
Fare Calculator
Driver Tracking
Multiple Payment Option
Push Notification
Ride Sharing
Contact Driver
Rate and Review Driver
Travel History
Customer Support
Panic Button
Ride Cancelation
Features of Driver App
For building a driver app for 'Uber' it is necessary to consider these features:
Driver Profile and Status
Trip Alert
Push Notification
Navigation and Route Optimization
Driver's Delivery Report
Quick Contact with Customer
Admin Panel Inclusions
Set of functions for admin panel of a ride-hailing app like Uber should be:
Locations and Fare Management
Driver and User Management
Booking Management
Vehicle Management
Review Driver's Order and Payoffs
Check Ratings and Reviews
Notification Management
System Content Management
FAQ
Promotions and Discount Management
Driver and User Support
An Overview of 'Uber' App for Passengers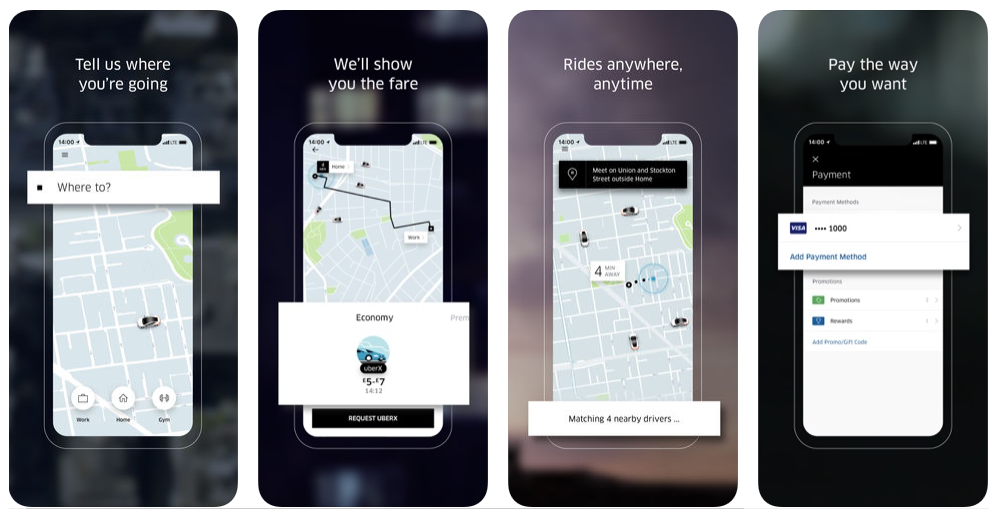 The user needs to login to the app. Share his present location and destination. Uber suggests the type of vehicle available and also shows the fare for the journey. The user can track the driver through geo-location tracking. Before booking any ride the user can see the ratings and reviews given to the driver. Uber has multiple payment options. User can pay through the app or pay cash for the ride.
Distinguished Features That You Can Add in Your Ride Hailing App
We all are familiar with the basic features, so let us discuss something advance here. It is well understood that in order to stand out from the crowd you need to come up with some uniqueness and the same is with a ride-hailing app too. Here are the distinguishing features that you can add during your mobile app development process.
AI Integration: If you will include the AI option in ride-hailing app, you can achieve 30% more profit. It can aid you to decide the dynamic fare pricing which is the core part of the business model of on-demand taxi services. As it uses some of the industry defined algorithms and previous data to predict the prices which have high relativity with the factors affecting dynamic pricing. With this, AI also understands user behavior, hence it can help you to deploy future business policies.
Ride Scheduling: A thing about ride-hailing app which is not appreciated by many is 'waiting'. With the ride schedule option, the commuter can book a ride in advance. There is no need to wait long for the driver. This is going to save the time of both commuter and driver.
Heat Map: A feature that could be appreciated by the drivers. This heat map will let the drivers know about the location where there is a higher density of commuters. The driver can hence move to the place and can get a booking without wasting much time.
Forward Dispatch: It is another important feature which can be included in the driver's app for ride-hailing services. This unique feature lets the driver take another ride when they are still completing their current ride. Definitely, it helps the drivers to cut extra time and earn more.
Book for Others: This feature would let the user book ride for family and friends from their personal account. Once the ride is booked, the user will get an SMS. User can hence track the ride with the shared link.
What is The Revenue Generation Model of a Ride Hailing App?
The best part about ride-hailing app is that there are multiple revenue generation models.
Commission from Drivers
Ride Fare from Customers
Cancelation Charges from Customers
In-App Purchase
Advertisements
How Much Does It Cost To Develop a Ride Hailing App Like Uber?
By this time, we know that you must have been planning to hire Android app developer or iOS developer for consultation for your ride-hailing app development. We know that you are curious to know how much it costs to develop a ride-hailing app like Uber. There are various factors that collectively make the final cost of app development they are:
The platform used
App version
Location chosen for app usage
Basic features
Advance features
App size
Signing Off
Ride-hailing business is one of the biggest contributors to the global economy. You too can become a part of it. All you need is to hire Android app developer or an iOS developer that can help you in the development and deployment of the app. And, why Uber or 'Uber Clone', if you have a unique idea you can make a difference in the industry with your own ride-hailing app.
Sagar holds the position of Chief Technology Officer at Credencys Solutions Inc., a mobile app development company. He is responsible for all the technical operations, as well as leading the company's revolutionary offerings. He is helping companies navigate the Digital journey in an Agile environment. Share your app idea at sagar@credencys.com.
Sagar has two main areas of focus – Technology and Processes.  He has worked in leadership positions in various Fortune 500 companies and has been instrumental in driving success through digital transformation. He is also an enthusiastic Agile Coach.