Business-grade Free Online PDF to Excel Converter
Portable document format a.k.a PDF is a de facto standard for exchanging electronic documents. Even though its convenience became apparent right after Adobe introduced it back in 1993, its usefulness has never never been greater than today when we juggle between multiple devices running on different operating systems. The main advantage of the PDF is that it is independent of the operating system, hardware and software. In other words: the PDF file looks exactly the same on any device running on any operating system. This ensures that the documents look and feel professional.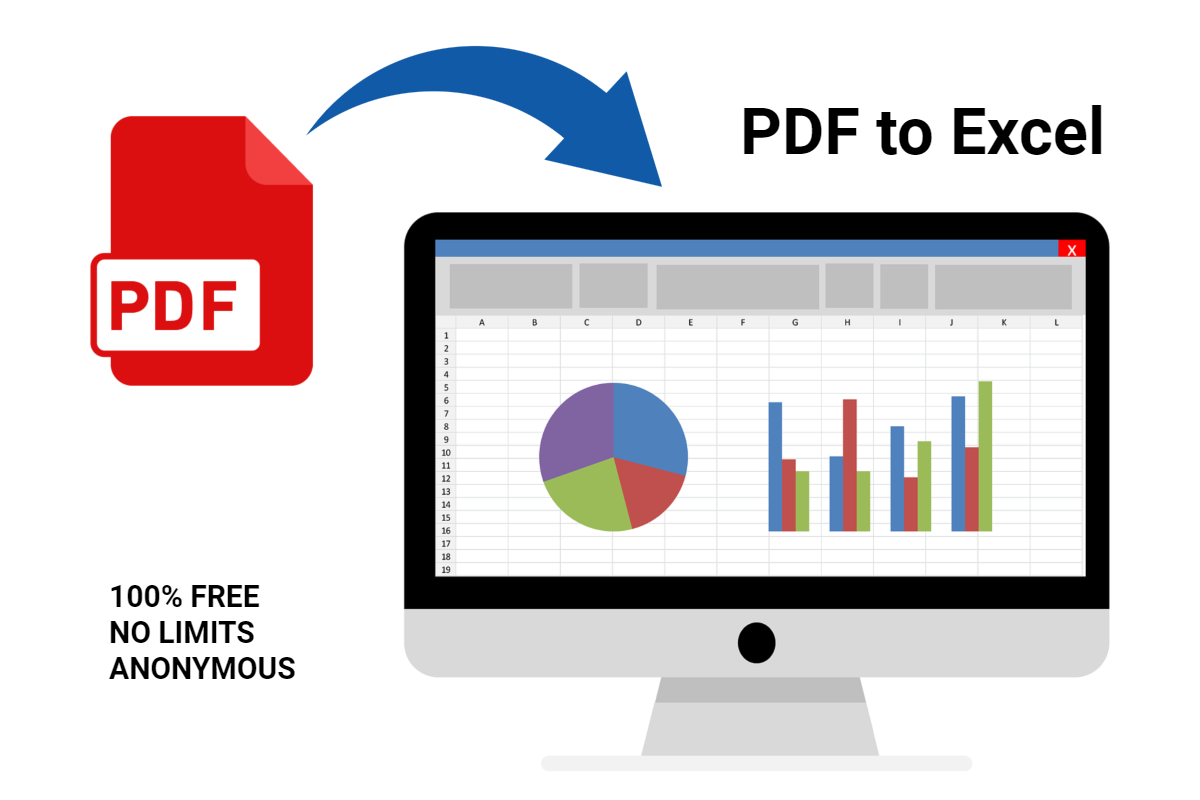 On the other hand, PDFs are notoriously difficult to edit. After all, the format is designed that way. To edit a PDF, one needs a specially designed program: a PDF editor. Even with PDF editors, manipulating PDFs is not necessarily a breeze. To make significant changes to the content of the PDF, it is best to import that content from the PDF to an editable file format. For example, if you modify a set of PDF tables with financial and numerical information, you will first want to export those tables into Microsoft Excel spreadsheets.
Accurate and reliable PDF to Excel converters generally come with a price tag, just like most enterprise software solutions. There are, of course, web-based PDF to Excel conversion services and mobile applications that offer PDF to Excel conversion for free, but if they do the job properly, they usually don't guarantee the safety of the files or anonymity which are of paramount importance in the business world.
Today, when most businesses, and especially the small ones, are struggling to keep their heads above water, finding business-grade freebies is a matter of survival.
When looking for a PDF to Excel converter, most business users will require the following:
That PDF tables be translated into Excel with precision and accuracy
That the information in files remains safe and secure
That it is easy to use, without a steep learning curve
That it is possible to extract not only data from electronically generated PDFs, but also from the image, scanned PDFs
With this set of requirements in mind, you'll be happy to learn about the free online PDF to Excel converter by PDFtoExcel.

Convert PDF to Excel Online Safely
PDFtoExcel obviously recognizes the users' need to protect their files and information within the documents. PDF tables often contain financial information which is and should remain private. With this in mind, PDFtoExcel deletes all files from their servers promptly after conversion without a trace. All data uploaded to their servers is used for conversion purposes only. All files are accessed only by automated software agents.
Takeaway: Even though the safest option is always to manipulate your files locally, without uploading them to the Internet, PDFtoExcel's security features offer an additional layer of security compared to most online converters.
Export PDF to Excel Anonymously
It is increasingly difficult to complete anything on the Internet without leaving at least an email address or other personal information. However, PDFtoExcel allows you to change your PDFs to MS Excel format anonymously – you will not be prompted to leave an email at all. Just upload your PDF which will be converted directly on the page and download converted spreadsheets without any further interaction.
Takeaway: Transfer your PDF data and tables to Excel spreadsheets without compromising your personal privacy and sharing any other personal info.
Import PDFs from Online Cloud Storage
Thanks to so many excellent online cloud storage and sharing options, most of us store our personal and business files in our cloud storage of choice. The most popular are definitely Dropbox, Google Drive and Microsoft's OneDrive. This free online PDF converter to Excel recognizes this and integrates with all three popular cloud storage solutions. It makes it easy to upload PDFs for conversion to Excel directly from Dropbox, OneDrive and Google Drive.
Takeaway: Time is scarce and there is so much to do. Integration with online cloud storage solutions saves time and simplifies the manipulation of business documents.
Extract Scanned PDF Tables
In business, too often we deal with scanned documents. Scanned PDFs are image files and extracting data from images requires the use of OCR technology. PDFtoExcel uses the latest OCR technology and accurately recognizes data and numbers stored in scanned documents. You can easily unlock all this content and reuse it in editable Excel spreadsheets.
Takeaway: Import into Excel any PDF – be it an electronically generated or image, scanned file.
Convert PDFs of All Sizes to Excel
The web app converts PDFs of all sizes to Excel. No matter how big and complex your data tables are, they will be fully converted. It retains the original row and column structure and returns an accurate output.
Takeaway: Convert any PDF file to Excel and convert any number of PDFs for free – without any limits. No need to worry about the size limits or waste time on checking the size of your PDFs prior to sending them for conversion.
Export PDF to XLSX Format
The free online tool converts PDF to xlsx format, the latest Excel's format which is supported by other spreadsheet solutions as well. The conversion output is ready to use in various versions of Microsoft Excel, but also in open source spreadsheet apps, such as LibreCalc and OpenCalc.
Takeaway: Import PDF to XLSX and reuse in Excel or any other spreadsheet application that is compatible with Microsoft Office.
Verdict
PDFtoExcel.com may be just a free online conversion service, but it is packed with a range of features that turn it into a great free solution for small business users.
Personal contact info – slikgepotenuz@gmail.com
Permanent Address :- Montville, NJ
CEO and co-founder at Cloudsmallbusinessservice.com