Webwork Time Tracking Review
WebWork time tracker is a time tracking and employee monitoring software for teams, companies, and freelancers.
The most important components of time trackers are productivity increasing, issues identifying and eliminating. WebWork Time Tracker with Screenshots gives you that opportunity.
With different screenshot modes, activity level tracking and apps and website usage monitoring features it is very easy to track how much each task takes from start to finish, which apps and websites were used during the work and understand how to boost your and your employees' productivity.
Webwork has all the features for time tracking and employee monitoring:
Time tracking
Webwork tracks working hours for each user, each project daily, weekly and monthly. Time tracking automatically stops after 4 minutes of no clicks and keyboard strokes, and the user needs to click start to continue time tracking.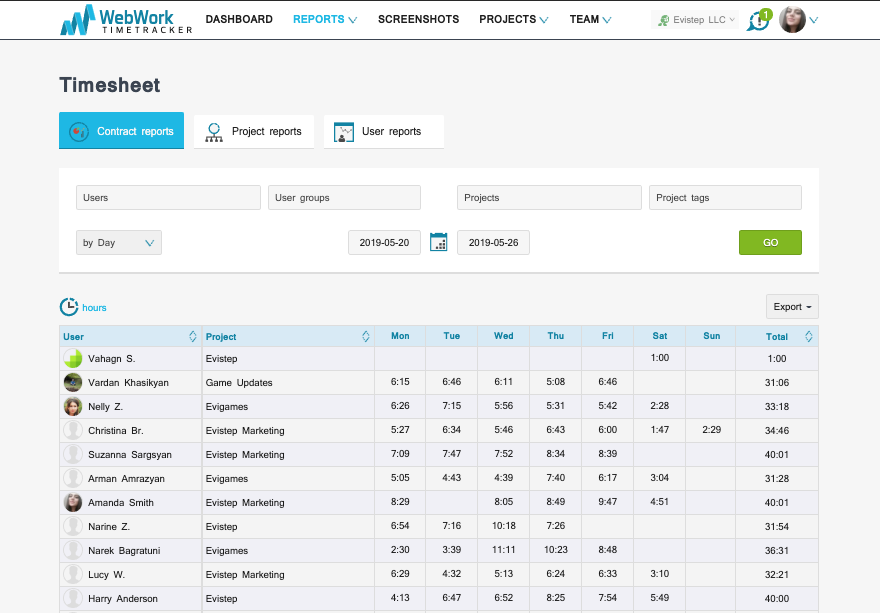 Screenshots
Webwork time tracker takes screenshots once in every 10-minute interval.
It offers 4 screenshot modes:
Screenshot mode
Background mode
Blurred Screenshot mode
No Screenshot mode
Activity level
WebWork Time Tracker tracks activity by mouse click and keystroke quantity.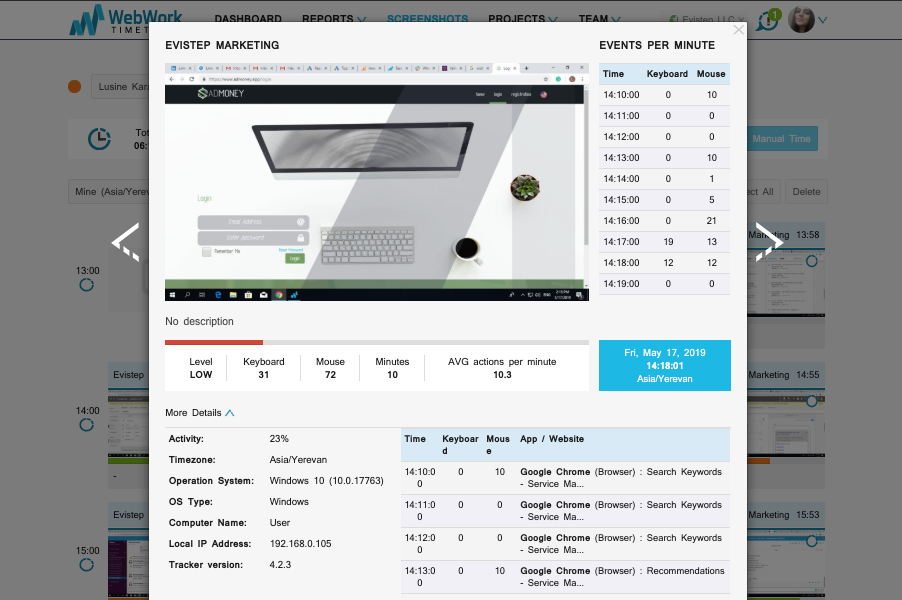 User type
WebWork Time Tracker has 5 user types for each team with different permissions։
Owners
Executive managers
Project managers
Employees
Clients
Online reports
The result of time tracking is greatly structured and accurate timesheet reports.
Users are able to have daily, weekly and monthly reports right away in the Timesheet Reports. Users are able to export their reports in XLS, CSV, and PDF. 3 tabs will help users to get the kind of reports they need:
Contract Report
Project Report
User Report
Billable hours
People who use time trackers are mostly being paid per hour. So if you set an hourly rate to your WebWork contracts you will be able to track not only time but the amount of paid hours. Amount reports are designed to show the billed amount of each user by day, week or month. Just click on the Amount Icon in all reports and view the Amount Report.
Apps and websites
It's always a struggle to manage not to get distracted during the work, not to end up on an interesting article on a favorite tabloid or a video on YouTube. By tracking all windows users of WebWork Time Tracker have an opportunity to evaluate the efficiency of their working day and evaluate the distractions with real numbers.
WebWork Tracker records the applications and websites the user is using while tracking time and generates all the information in the Apps and Websites Report. Users can see the application name and how much time they have spent using it.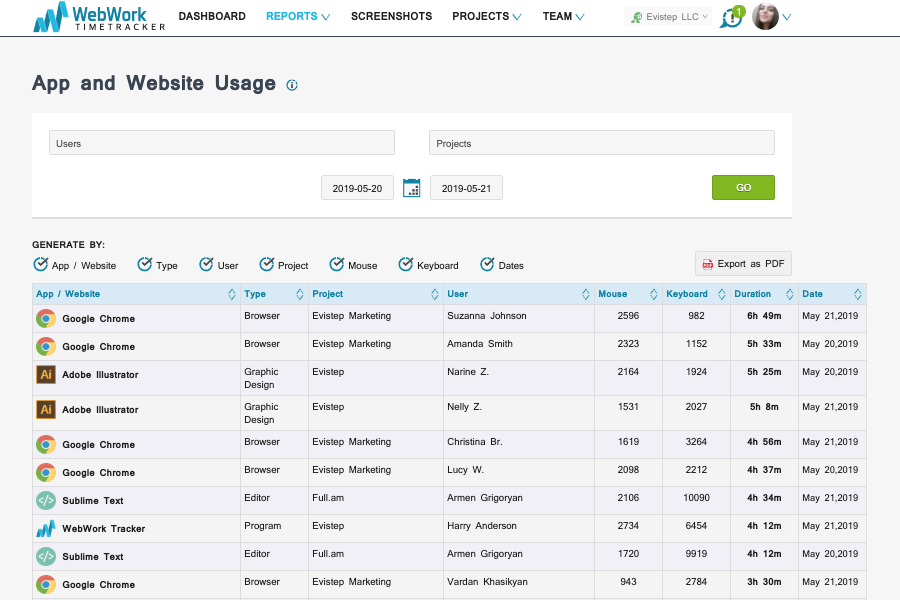 To discover more features, you can visit Webwork time tracker website.
Webwork time tracker is available on Windows, MacOS, and Linux.
Digital marketing specialist & content writer – Evistep Enterprises, Yerevan, Armenia.