Tech and customer support receive daily a great amount of letters. Initially we simply used Thunderbird to process them along with color marks and stars. When this amount increased, we faced the need to systematize our interaction with mail: our team lacked the opportunity of commenting posts, distributing tasks between employees, seeing the correspondence history conveniently, using the response templates, and many other things.

Such opportunities can be provided by the so-called HelpDesk systems. A query in such system is normally called a "ticket" therefore a system in USA can be called a "ticket box". To search for the most appropriate solution, we created a list of requirements, looked through more than 100 different software products, and then we installed and tested 16 of them, shortlisted the candidates and finally chose the system we use so far.

Ad




Below are the results of our research. The winner is deliberately unmarked: in case of each team of employees the final decision should be based upon the requirements.

Let us start from the most interesting – from the list of finalist. But first that let us describe our requirements to the system.

Requirements to the system:

Company has several departments, and each department has their own alternative of designing letters, they all have special features. Queries can journey between departments during worktime. Besides, we have an opportunity to install the product on our own server, and we are interested in full customization – for that purpose we have developers in our staff. On the basis of these preconditions we have created the list of requirements.
Activity of developers and the community – the product should be supported and constantly improved;
Inexpensiveness (no more than USD300) or free-of-charge basis;
An opportunity to install the product on our own server (not on-demand/hosted);
Written in PHP with an open source code to ensure customization;
The source code should be structured and understandable;
The product uses MySQL or PostgreSQL data bases;
Web interface for processing the queries;
Correct working with UTF-8 and Russian encoding in Web interface as well as when sending or receiving e-mails;
An opportunity to translate the interface in Russian (ready localization or the method of translation);
Automatic creation of a ticket out of an incoming letter (Email to Ticket gateway). The employee's response is sent to a user in a letter (which practically emulates common conversation via e-mail). The user's response joins the source ticket;
Convenient displaying of the conversation history;
An opportunity to see who exactly responded to the query;
Support of several departments. Letters automatically go to a correct department;
An opportunity to limit the employee's access to certain departments;
Employees can move tickets to other departments;
An opportunity to input the personal signing in letters for each department;
Attachment support in in incoming as well as in outcoming letters;
An opportunity to split the message from the existing conversation to another ticket;
Support of response templates;
An opportunity to leave comments inside a ticket;
The escalation of tickets (if a ticket is not responded to for a long time, a manager immediately gets to know it);
Ticket search: by employee, by receiver, by subject, by content, by department, by date;
Preferred:
API to create or work with tickets from outside;
Sound signal when the new message comes in;
Statistics calculation: how many tickets were processed by an employee, what the average response time is;
Feedback facilities: an assessment of the tech support employee's response by a user;
In case of each product appropriate by technical characteristics we sent a query to a contact address of developers to check the performance of the tech support and make sure about the compliance with other requirements. The absence of response is a crucial drawback since there is nowhere you can send your ticket to in case of a problem.
Best Help Desk Software For Small Business:
| Name | Deployment | Training |
| --- | --- | --- |
| LiveAgent | Cloud, SaaS, Web, Android, iOS | Documentation, Live Online |
| Vision Helpdesk | Cloud, SaaS, Web, Android, iOS | Documentation, Live Online, In Person |
| Advisor | Cloud, SaaS, Web, Installed - Windows, iOS | Live Online, In Person |
| LiveChat | Cloud, SaaS, Web, Installed - Mac, Installed - Windows, Android, iOS | Documentation, Webinars, Live Online |
| Zendesk | Cloud, SaaS, Web | Documentation, Webinars, In Person |
| QuickBase | Cloud, SaaS, Web | Documentation, Webinars, Live Online, In Person |
| JIRA Service Desk | Cloud, SaaS, Web, Installed - Mac, Installed - Windows | Documentation, Webinars, Live Online |
| RepairShopr | Cloud, SaaS, Web, Installed - Mac, Installed - Windows, iOS | Documentation, Webinars, Live Online |
| Deskero | Cloud, SaaS, Web | Documentation, Live Online, In Person |
| NABD | Cloud, SaaS, Web, Installed - Windows, Android, iOS | Documentation, Webinars, Live Online |
Kayako | Help Desk Software | Customer Service Software | Live Chat software. Help Desk Software and Customer Service Software by Kayako. Improve customer satisfaction, increase sales. SaaS or On-Premise, from just $24 per month. Free trial.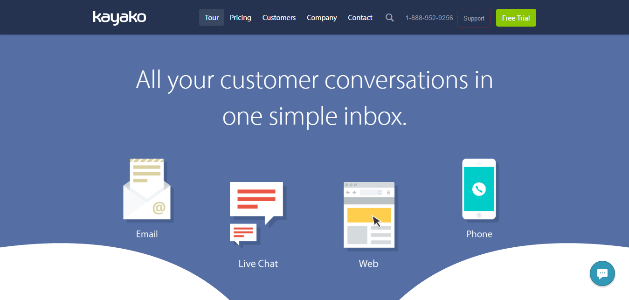 Price: $599 per 10 employees. Six months of updates are included in the package. The general number of employees using the system is considered.
This is the most functional support system. It can do anything with tickets. Beside basic functions it also supports task setting, SLA management, SMS notifications, knowledge base and a web portal for users, API for the integration with other services. It is being used by many eminent companies (ICANN, Sony, DHL, MTV).
Due to a great number of possibilities the setting and working interface are a bit overloaded. This is classical firm system to organize the customer support with the full range of opportunities.
The product is fully supported and developed. The support service responds fast, and there is a chat on the website.
You can buy the license keys for no less than 10 employees. The license limits the general number of employees in the system regardless of whether they use it or not. If an employee is dismissed and a new employee is hired, you need to delete the previous employee and add the newly hired one. The name of the deleted employee will be present in letters that he sent.
Cerb – A fast and flexible platform for enterprise collaboration, productivity, and automation. Form deeper relationships with your audience. Remember anything about anyone, collaborate from anywhere, deftly reply to an email flood, automate, stay informed, capture feedback, track time, flag opportunities, remember tasks, share expert knowledge, and otherwise execute efficiently.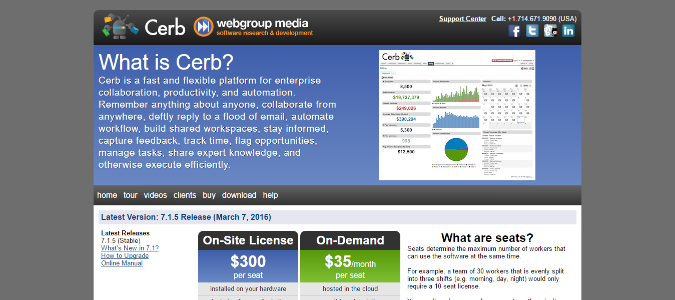 Price: $192 per 1 employee with one year of updates. It only takes into account online employees, the general number of employees can be unlimited. This product is open source on principle, and the developers declare it on the website. The system was initially developed to support the hosting providers.
The system is aimed at ensuring effective cooperation of colleagues. Huge emphasis is put on the creation of personal adjustable workplaces for each employee. Thus, each employee can create several workspaces representing the saved searches (for instance, all opened tickets in the Support group which do not belong to anybody, recently closed tickets in all groups, or tickets belonging to Dan). These workspaces are a major working tool, unlike other ticket boxes where the major tool is a fixed list of ticket queues which can be accessed by an employee.
Thus, a major feature of the system is its flexibility and adjustability of a workplace for each employee and for the existing runtime process. This system is also used by notable companies (Cisco, Yamaha), but there are less well-known names than Kayako has).
It support making reports, a knowledge base, accounting of working time and other extensions including the ones created by third-party developers. It supports API through HTTP (JSON). A notification on new messages can be received via RSS. Russification is possible via the translator in the administrator panel. The source code is open.
The support responds quickly to simple questions by mail. They can think about complicated issues for a while, but they respond to them, too. The product is being developed actively, new versions are released once in 3 months.
Since the general number of employees is unlimited, if a person is dismissed you can simply mark them as Disabled – all information will be saved. With the workforce of 15 employees you can buy a license for such number of workers that operate simultaneously during a shift, for instance, for 5 people. The system includes the SaaS version.
osTicket :: Support Ticket System | osTicket. Open source support ticket system simple, FREE, lightweight, reliable, open source, and easy to setup and use.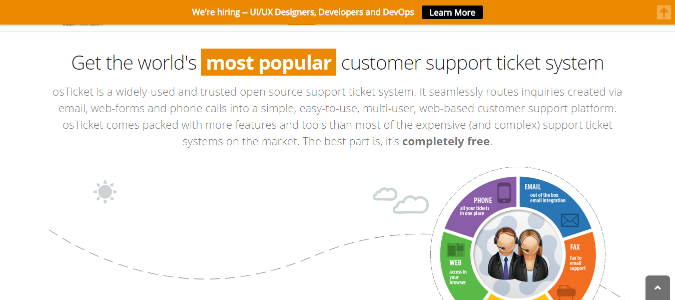 This is the free open source system. This is the only of free support systems written in PHP that made it to the final. Compared to the paid analogues it may seem uncompetitive, but it supports basis functions. The activity of developers and the community is low.

There is an extension developed by the community which provides API to interact with osTicket through SOAP.

You can only work with the system if you have a developed that will support the system and add functions necessary to the company. Probably, the salary of such developer will be higher than the cost of license of the paid version.

Summary

Our research has shown that there are many systems in the market which somehow solve the task of automatic customer support: with open or closed source code, paid and free, directed to work through web interface and through special clients, developed as independent server applications or intended to be launched from a web server. Systems can be divided into the following groups by their user support facilities:

Simple systems for ticket tracking

Middle complexity systems enabling team work, automation of activities, knowledge base support, SLA accounting and making reports.

Complex solutions supporting ITSM/ITIL, intended to manage the processes connected with the tech support and the software development in big companies.

When choosing the user support system one should pay their attention to:

The match of the suggested facilities of software and the principles of operating procedures established in a company.

The adjustment opportunity to the appearing changes in a company.

The release activity of developers and the operational efficiency of the product's tech support.

We hope that this article will be a good starting point for carrying out similar research even if it is not a decisive factor in the choice of the user support system.

Glossary

UTF-8 — common encoding supporting the symbols of many languages, is being used to store and transmit texts.

API is the interface of an application which allows referencing to it from outside programs. A particular case is an opportunity to exchange data automatically with an application via HTTP queries.

Open source is an open code, that is, a developer frees the access to the program's source code or diffuses it with the distributive. A program with an open source code can be easily modified by needs. Project with an open source code can be free as well as paid.

SaaS is a model of providing a product without the necessity to install it to a server. A developer installs and supports the system on their server. Normally, payments are monthly. These versions are frequently called "On demand" or "Hosted".

Ticket is a query in the user support system on the basis of which certain works are being conducted.

CRM is an application for the customer relationship management, assessment and the acceleration of quality.

SLA stands for Service Level Agreement. It determines the quality of the provided service in quantitative indices and establishes responsibility of the service provider with the violation of the agreed quality values.

ITIL (Information Technology Infrastructure Library) is a standard, the knowledge library containing the experience of providing high quality IT services and describing the best ways of providing these services. For instance, MOF is an analogue of ITIL – these are recommendations of ITIL processed by Microsoft considering the unique experience of Microsoft and oriented on systems built on Microsoft products and technologies. Another standard developed for analogous purposes is CobiT.

ITSM (Information technology service management) is a component of ITIL, it describes the processes directly connected with the provision and management of IT services.

Ad
Personal contact info - slikgepotenuz@gmail.com

Permanent Address :- Montville, NJ

CEO and co-founder at Cloudsmallbusinessservice.com
Latest posts by Sam Smith (see all)