Top 5 Free Cloud Storage For Small Business
You all know that using the cloud can bring big advantages for a small business. You often spend money in hardware to store your files and applications, why you do not think of using the cloud? Instead of emailing documents back and forth, why not centrally store them in the cloud?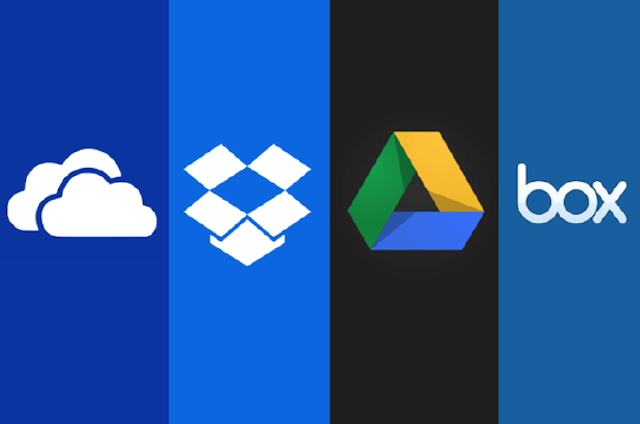 From relatively companies such as Adrive, Box and Dropbox, to heavyweights Google and Microsoft, many of them use free cloud storage as a way to entice users into their clouds with hopes they will pay more for additional volumes and services. Below, There are top 5 free cloud services you should know.
Read More: Top 7 Cloud Storage Providers For Small Business
WHAT'S CLOUD STORAGE ?
Cloud storage can be understood as the storage of digital data on the cloud where data of a company is stored and accessible from multiple servers that is often owned by a hosting company. This means that customers or companies have to spend money to buy or lease storage capacity from providers to store their data. Then, cloud storage is in charge of keeping the data available and accessible and give highest level of security for data backup and disaster recovery process.
ADVANTAGES AND DISADVANTAGES OF USING CLOUD STORAGE SERVICE
Storing your data in cloud has many advantages over traditional data storage. The first advantage is that the data you stored in cloud can be accessed every time from everywhere with internet access. You can access to your data by using mobile phones, tablets or laptops… The next one is that you can keep a remote backups of data away from your computer or phone easily which reduces costs associated with disaster recovery . If you have right storage system, you could allow other people to access and share the data, make it become a collaborative effort instead of personal project.
Unfortunately, there is disadvantage of using cloud storage service that cannot be denied. That is bandwidth gives limits to users. If the internet connection is weak or changeable, it will be difficult for you to access or share your data. So that, the companies that need a large amount of storage may find the costs increasing after the first few gigabytes of data stored.
TYPES OF CLOUD STORAGE
There are four types of cloud storage:
Public cloud storage is a place that customers or companies using cloud storage service have little controls and the data stored on the cloud can be accessed online by anyone who is authorized only. This means that the cloud storage provider has fully managed the data of the customers or companies and he takes responsibility to give the security at highest levels.
Private cloud storage means that the provider has little administrative controls and one person or company will take responsible for that. This kind of cloud storage also means that the data stored in the cloud cannot be shared with others.
3. Personal Cloud Storage
Personal cloud storage, also called mobile cloud storage, is a place where is safe to load and store all of individual data in the cloud. You can access to your data at anytime and anywhere if you need across multiple devices. It is the best way for you to store favorite music, movies and pictures… Apple's iCloud app is a good example for personal cloud storage.
Hybrid cloud storage is a popular method to manage storage by combination of public and private cloud where the most important data will be stored on a private cloud and the less important one can be kept on public cloud. Users can access the data remotely.
1. GOOGLE DRIVE (FREE STORAGE 15GB)
Google Drive is a file storage and synchronization service created by Google. This service allows users to store files in the cloud, share files, and edit documents, spreadsheets, and presentations with collaborators. Google Drive encompasses Google Docs, Sheets, and Slides, an office suite that allows collaborative editing of documents, spreadsheets, presentations, drawings, forms, and more.
2. MICROSOFT ONEDRIVE (FREE STORAGE 15GB)
OneDrive (previously known as SkyDrive, Windows Live SkyDrive and Windows Live Folders) is a cloud storage, file hosting service which allows users to sync files and access them from a web browser or mobile device later. With this, users can share files publicly or with their contacts, publicly shared files do not require a Microsoft account to access. It is part of the suite of online services formerly known as Windows Live.
3. ADRIVE (FREE STORAGE 50GB WITH AD SUPPORTED)
ADrive provides online cloud storage services to customers who are individuals, businesses and enterprise-level users. Its goal is to give users a convenient and reliable way to better manage their data from virtually anywhere at any time. From the time when it was founded in 2007 by veterans of the storage and networking industry, ADrive was created to meet the demands of our data-intensive world. Since the beginning, it has led the online storage industry by offering the largest amount of free storage and backup on the Internet.
4. BOX (FREE STORAGE 10GB WITH 250 FILE UPLOAD SIZE)
Box (previously Box.net) is an online file sharing and personal cloud content management service for businesses. The company adopted a freemium business model, and provides up to 10 GB of free storage for personal accounts.
5. DROPBOX (FREE STORAGE 2GB)
Dropbox is a file hosting service operated by Dropbox, Inc. in San Francisco, California, that offers cloud storage, file synchronization, personal cloud and client software. Dropbox provides users with creating a special folder on their computers, which Dropbox then synchronizes so that it appears to be the same folder (with the same contents) regardless of which computer is used to view it. Files placed in this folder are also accessible via the Dropbox website and mobile apps.
Personal contact info – slikgepotenuz@gmail.com
Permanent Address :- Montville, NJ
CEO and co-founder at Cloudsmallbusinessservice.com